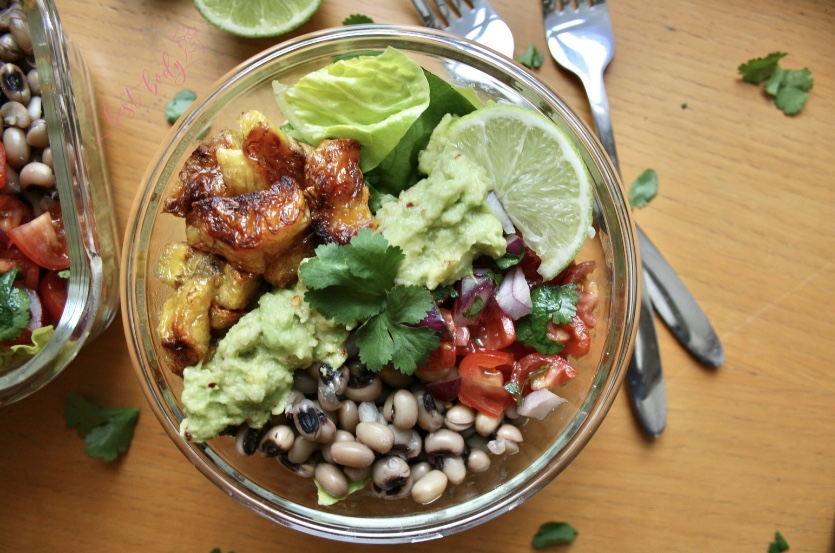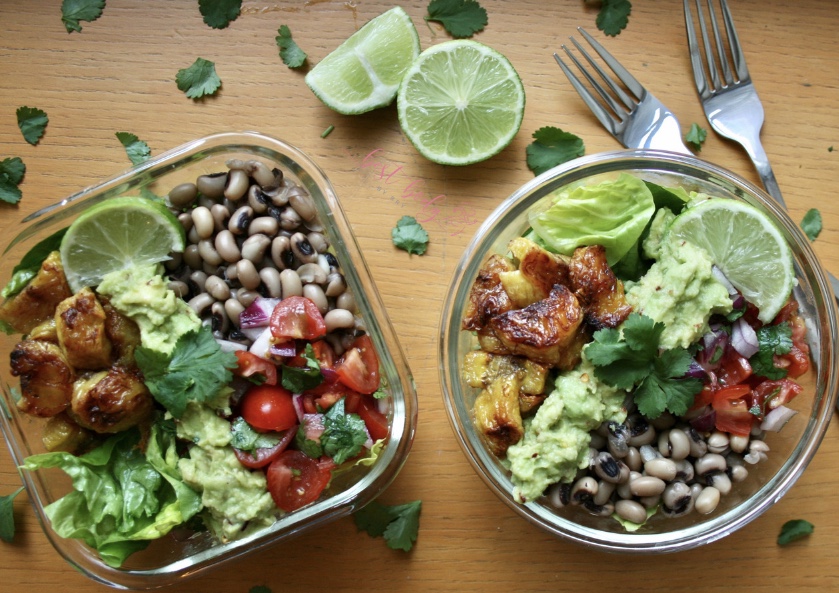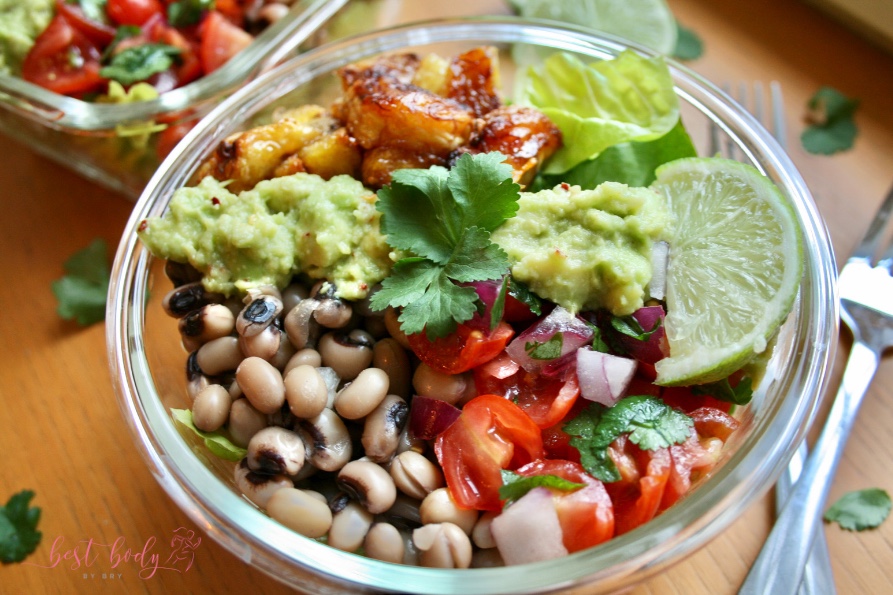 This recipe contains some of my favourite flavours in the world- plantain, coriander, red onion…(I know the last one is weird haha). Together this dish is light, refreshing and bursting with deliciousness! Inspired by Mexican burrito bowls, all I can say is that you have to make it! It is also vegan-friendly and plant-based with the freshest of ingredients combining to create magic! An added bonus is that it only took 20 minutes to create! Without further ado, here is the recipe: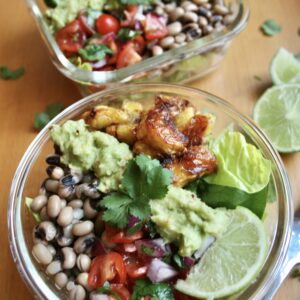 PLANTAIN AND BLACK EYED PEA BOWL
Ingredients
1/2

ripe plantain

1

tbsp

coconut oil

Baby gem lettuce

6

cherry tomatoes

1/6

red onion

1

lime

100g

cooked black eyed peas

Coriander leaves

Chilli flakes

1/2

avocado

Salt to taste

1/4

tsp

garlic powder

1

tsp

extra virgin olive oil
Instructions
Chop your plantain into pieces. Add salt to taste and your coconut oil. Place in the oven at 180*C for 15 minutes or until brown.

Chop your lettuce up and add to a bowl. Drizzle with your extra virgin olive oil and add your black eyed peas.

Chop up your cherry tomatoes, red onion and a bit of coriander. Add to a bowl and mix. Squeeze 1/4 lime onto the mixture and add to your salad and black eyed peas bowl.

In another bowl, mix your mashed avocado, chilli flakes, 1/4 lime, a bit of coriander, salt to taste and garlic powder. Add your avocado mixture to the salad bowl.

When the plantain is ready, add to your bowl as well! Enjoy!

(Wow I say "bowl" so many times in this recipe!)
---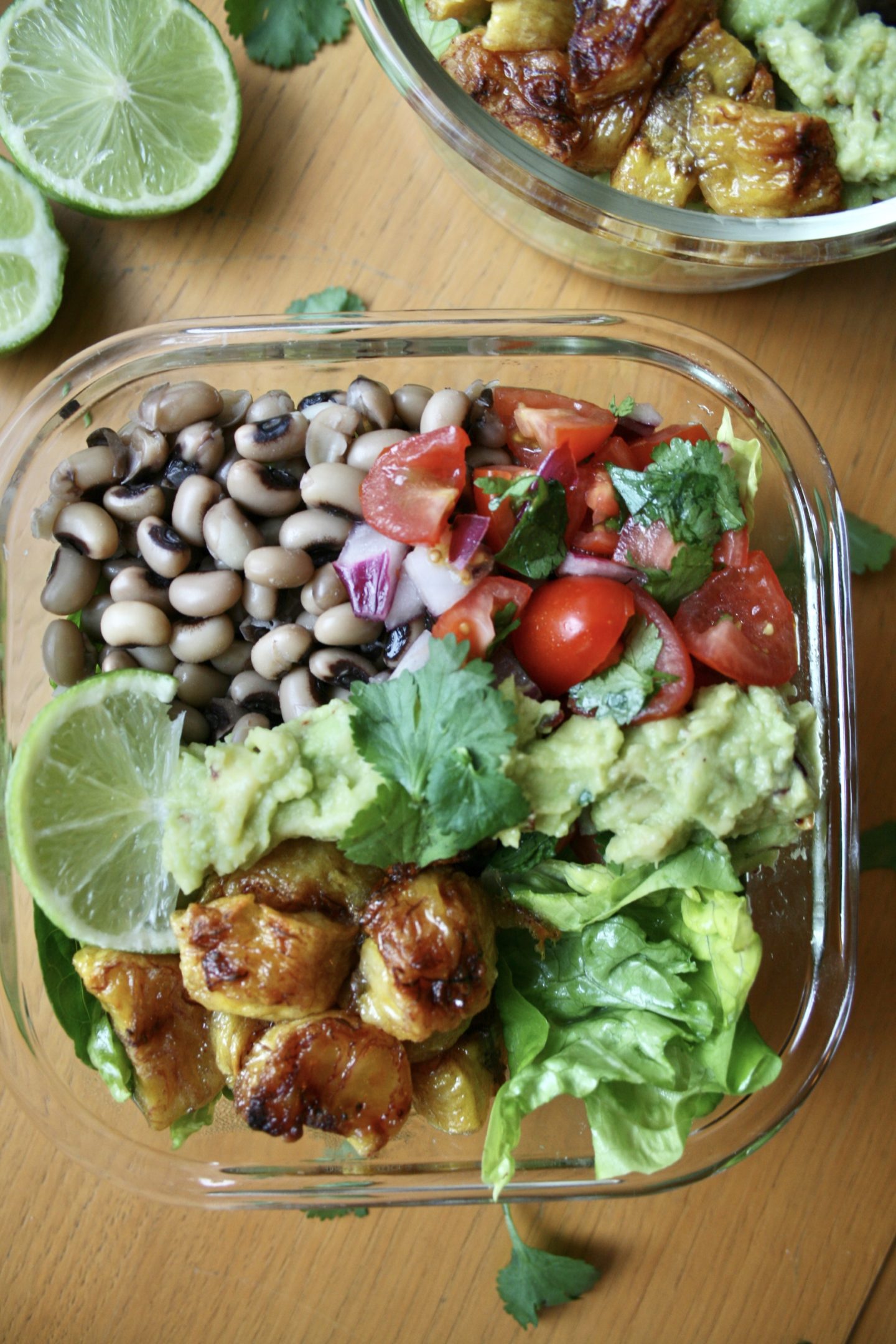 ---
I hope you liked this recipe and give it a try!
Don't forget to subscribe and follow my social media.
Bry xo