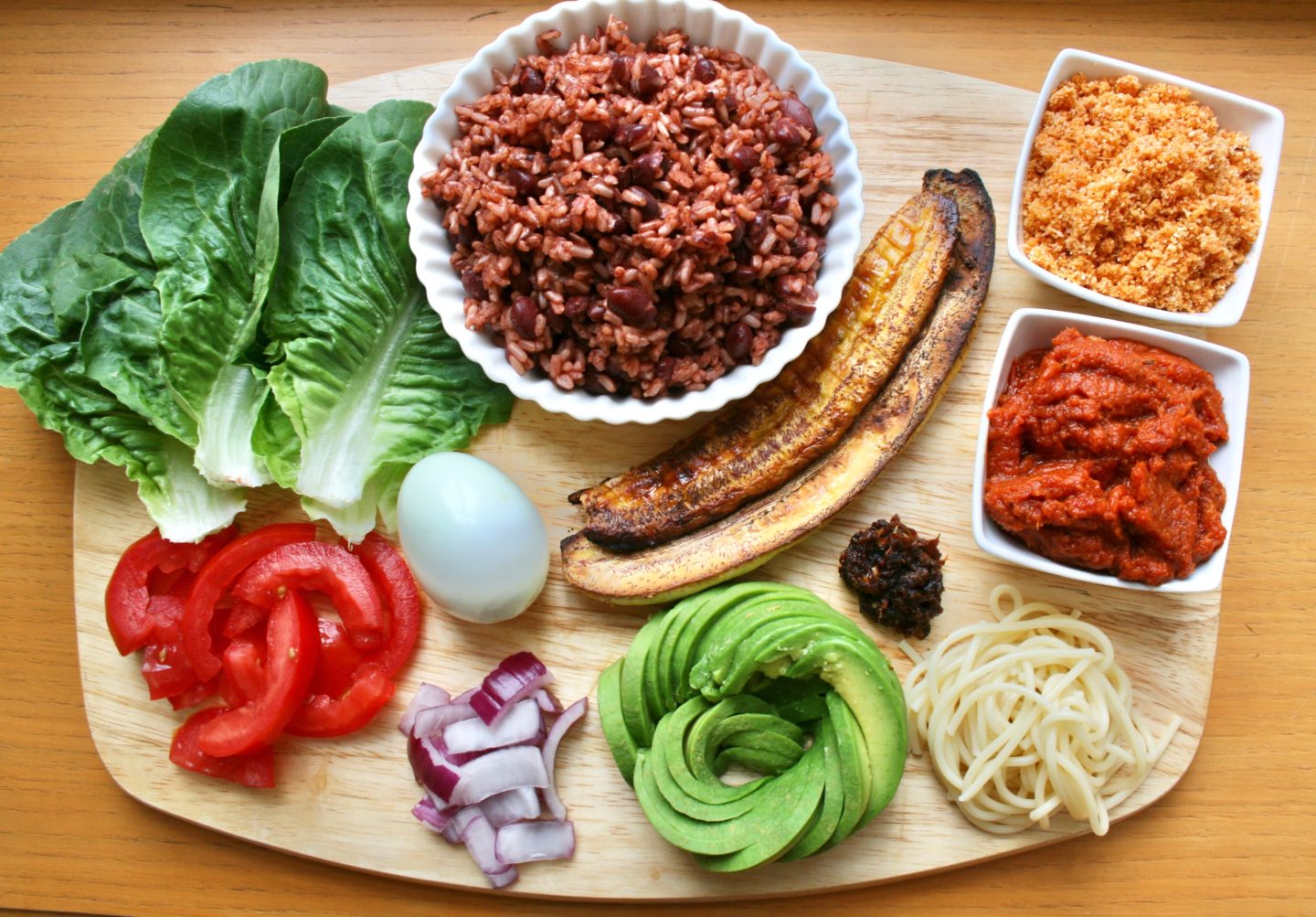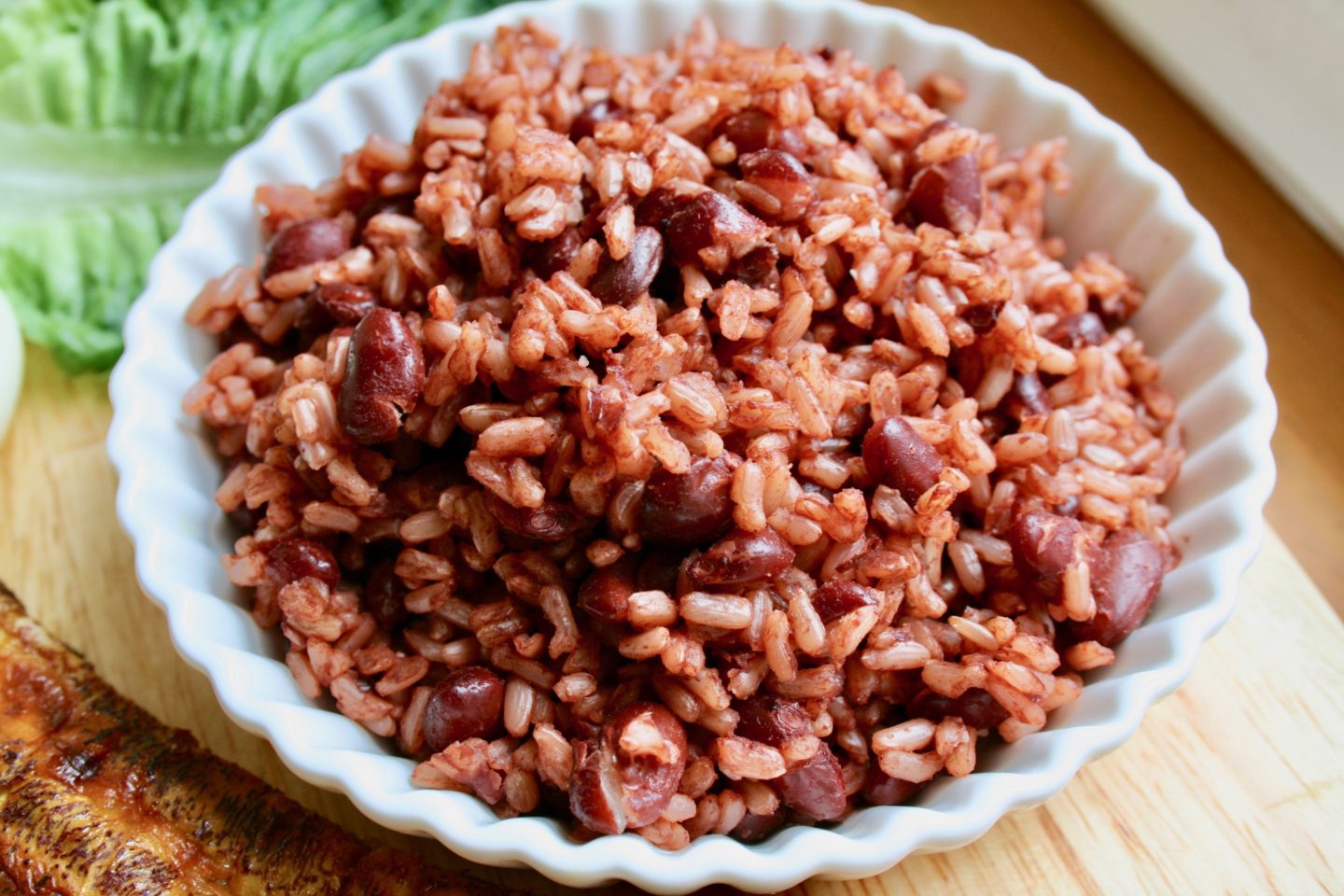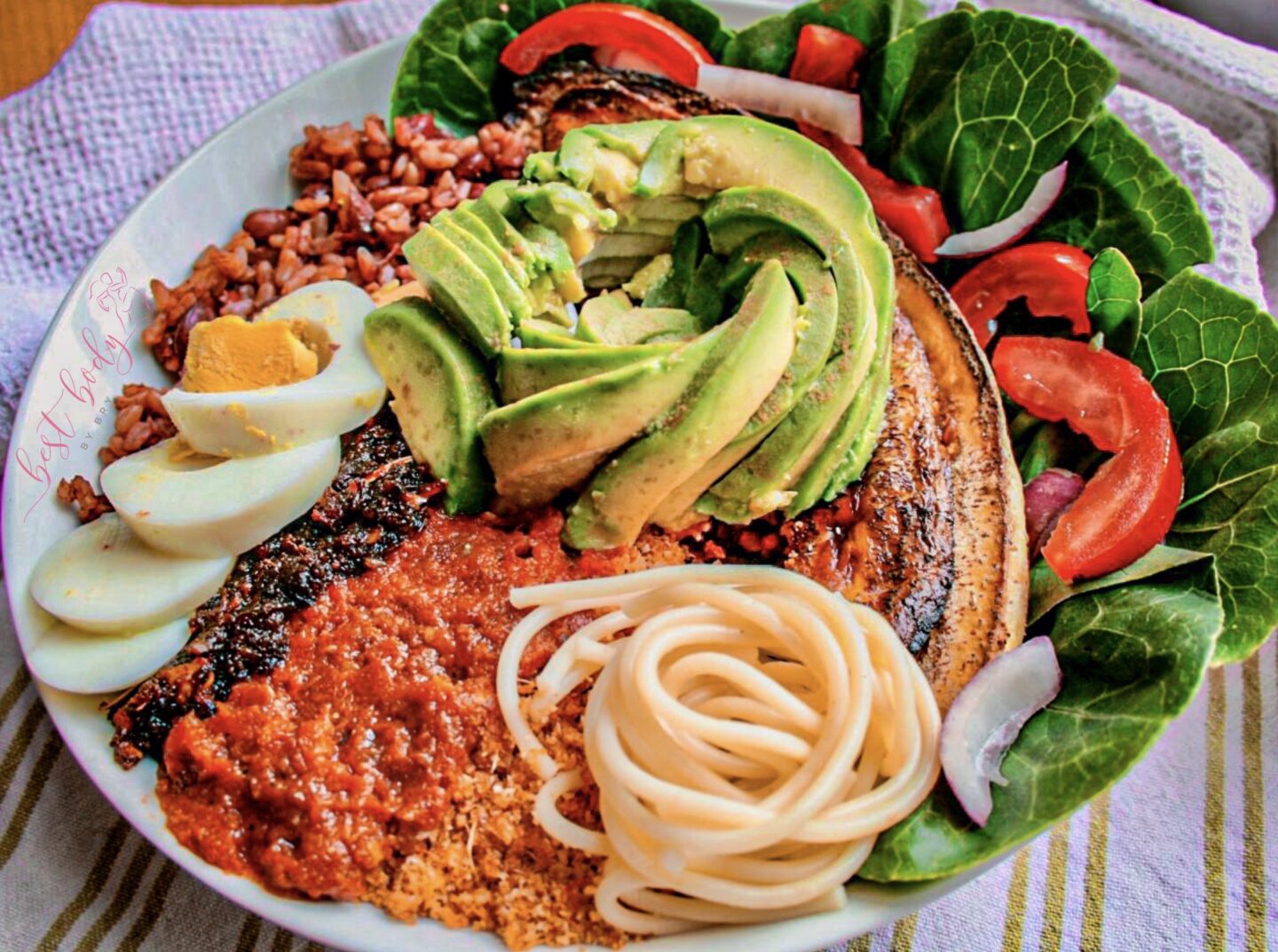 Waakye is a beloved Ghanaian meal typically made from white rice, beans and coloured with waakye leaves. It is served with spaghetti, meat stew, kelewele, garri fotor, shito (black pepper sauce), a boiled egg, avocado and some salad. It makes the perfect post-night out meal, brunch, lunch….well to be honest, people eat waakye at any time of the day!
What distinguishes waakye from normal rice and beans is the red colour that stems from the waakye leaves which are used to colour the rice and give a unique flavour. (Waakye is also vegan!) In the UK or other Western countries, you can find waakye leaves in any Ghanaian/Afro store. If you are lucky to be in Ghana, you can find waakye leaves EVERYWHERE!
Buddha bowls are currently a huge trend in the Instagram world! They consist of a high-fibre grain, a protein, a healthy source of fat and loads of veggies! I decided to jump on the Buddha bowl bandwagon and created a waakye buddha bowl as the plethora of ingredients used in traditional waakye recipe makes for a colourful and nutritious dish when nutritional tweeks are made.
Here are some of my healthy tweeks:
Waakye is usually made with white rice but I decided to use brown rice to add some extra fibre to the recipe.
We also created a lower in fat waakye stew using less oil as the typical stew swims in the yellow liquid.
We baked the plantain instead of frying to further reduce the calories and fat content.
We made a vegan waakye stew without meat as the boiled egg and beans make the dish very high in protein already. Of course, if you would like to add meat to the recipe, feel free!
One thing to watch out for is the portion size! Waakye is served in super large portions per person and with all the carbohydrates from the rice, spaghetti, garri fotor and plantain plus the addition of all the trimmings, this meal easily comes in at over 1000 calories per typical portion. It is important in this case to eat until you are full instead of compromising on flavour by cutting one of the components of the dish out. I made sure to add loads of veggies to fill the plate, just a few spoons of waakye and one simple fork full of spaghetti.
Altogether, this Waakye Buddha Bowl was delicious and was reminiscent of the traditional recipe you can buy on street corners in Accra. Brace yourself! This recipe took a loooooong time to make! But it was worth it!
Waakye buddha Bowl
Ingredients
Rice and beans (1 serving)
1/2

cup

brown rice

1/2

cup

cooked black-eyed peas

1

bunch

sorghum leaves

1

cup

water

A pinch of salt
Waakye Stew (6-8 servings)
1

white onion

1

tsp

crushed garlic

1

tbsp

crushed ginger

2

tbsp

tomato puree

1

tbsp

crushed kpakposhito/chilli

1/2

tsp

salt

1

tsp

all-purpose seasoning

1/2

tsp

ground black pepper

1

tsp

thyme

400g

can chopped tomatoes

1

tbsp

coconut oil
Garri Fotor (1 serving)
3

tbsp

raw garri

1

tbsp

water

3

tbsp

waakye stew
Plantain slices
1/2

ripe plantain

A pinch of salt

1

tsp

coconut oil
Optional Trimmings (per portion)
1/2

avocado

1

boiled egg

Lettuce

Tomatoes

1

tsp

Shito pepper

Spaghetti

Sliced red onions to garnish
Instructions
Waakye Rice
Wash your waakye leaves thoroughly and add them to a pot of boiling water. Cook for 5-10 minutes until the water turns red. (You can either remove the leaves now or keep them in the pot. I removed them).

Add your rice to the pot, salt and more water if necessary. Add beans. Put a lid on the pot and let cook for 30 minutes on a medium heat or until the rice is cooked. Check on the mixture occasionally. You can add more water during cooking if necessary. 
Waakye Stew
Blend your onion, ginger, garlic and green pepper with a splash of water. 

Add your oil to a pot on a medium heat and pour in the blended mixture, stirring occasionally for 5 minutes. 

Add your tomato puree and stir for 1 minute. 

Add your chopped tomatoes along with the spices, stir and leave to cook, stirring occasionally for 15 minutes. 
Garri Fotor
Add your garri to a bowl with water. Crumble in your fingers until the mixture is a crumbly texture. 

Add your stew and stir until all the garri is coated.
Kelewele Slice
Preheat your oven to 180*C. 

Slice your plantain in half. Coat in salt and coconut oil. 

Place slice(s) on grill tray and cook for 10-15 minutes on each side until brown. 
Assembling your bowl
Your rice should fill half the bowl. Add your veggie trimmings. Then, add your plantain slices, garri fotor, stew, shito and the rest of your optional trimmings. Enjoy!
Nutrition
Calories:
801
kcal
Carbohydrates:
133
g
Protein:
18
g
Fat:
25
g
Saturated Fat:
10
g
Polyunsaturated Fat:
2
g
Monounsaturated Fat:
7
g
Cholesterol:
93
mg
Sodium:
691
mg
Potassium:
1787
mg
Fiber:
14
g
Sugar:
23
g
Vitamin A:
1869
IU
Vitamin C:
42
mg
Calcium:
111
mg
Iron:
7
mg
---
Waakye Stew Ingredients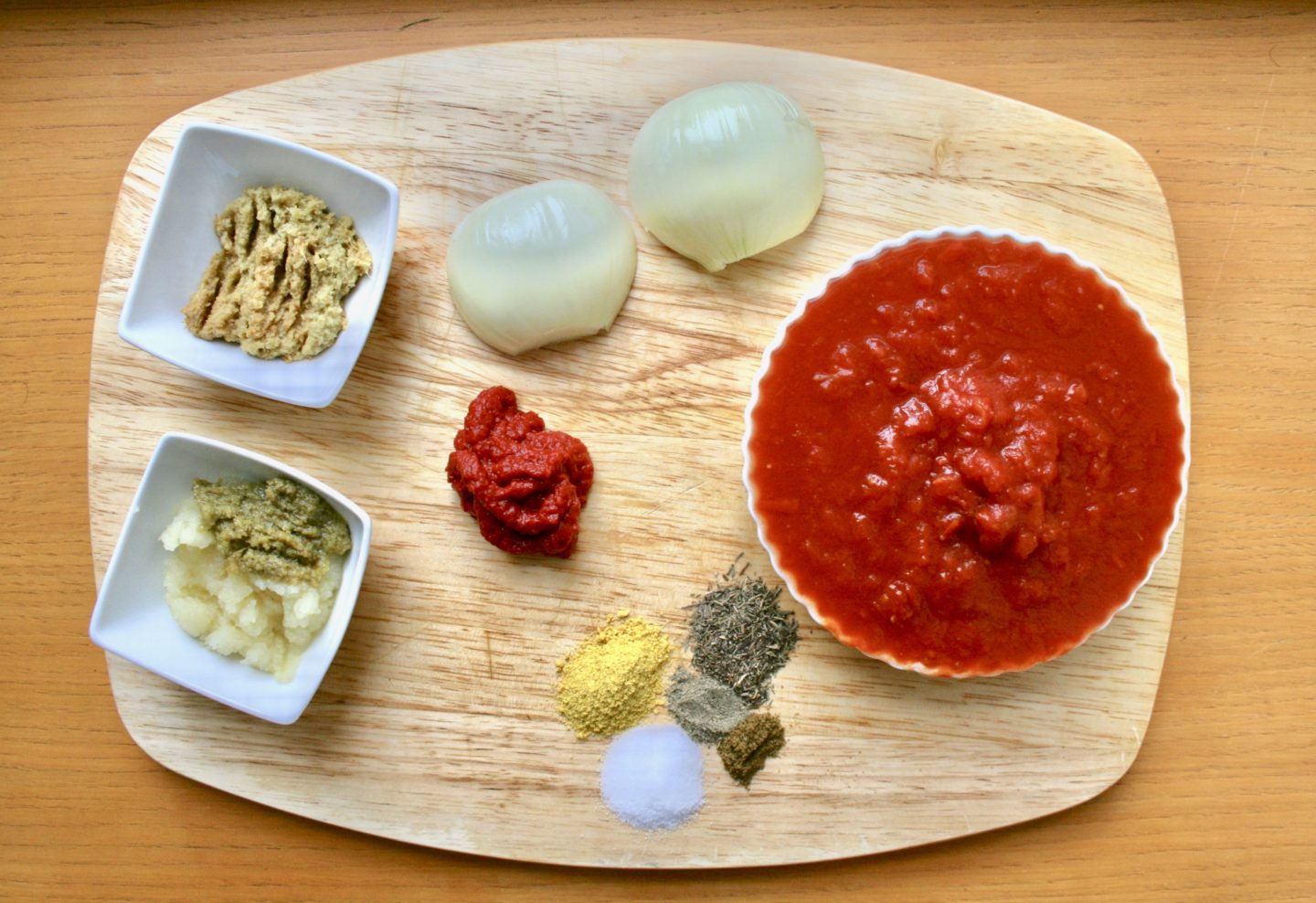 Waakye Stew 
Garri Fotor

Avocado rose

---