If you've never tried this honey-suya flavour combination before then today is the day! This marinade will change your life…really! Suya is a West African spice made from crushed dried groundnuts and other seasonings. The idea to put honey and suya together came when I got tired of my favourite honey-soy marinade and wanted to try something closer to home. So I put it to the test and it has become one of my greatest discoveries! I plan on marinating other meats and fish with this marinade but in this post, I used skinless chicken thighs that were as tender as ever! So if you would like to know how to make this delicious dish, keep on reading:-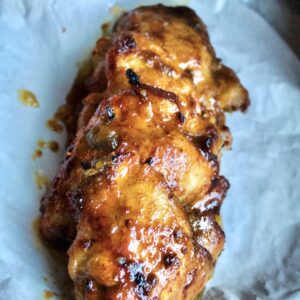 HONEY-SUYA CHICKEN
Ingredients
4

skinless chicken thighs

4

tbsp

honey

3

tbsp

suya powder

1/2

tsp

salt

1

tsp

garlic puree

1

tsp

ginger puree

1/2

tsp

black pepper
Honey-suya Glaze
1

tbsp

honey

1

tbsp

suya powder

2

Paposhito peppers/1 tsp chilli powder
Instructions
Mix your marinade together and pour over chicken.

Leave in the fridge for 20 minutes to 24 hours.

When ready to cook, preheat your oven on the grill setting at 180*C.

Put your chicken on a baking tray and place in the oven. Flip pieces over after 15 minutes.

Leave in the oven for 10 more minutes or until cooked through. Flip over to the former skin side (the side where the skin once lay with more flesh).

Before broiling, pour the glaze over the pieces and turn up the heat to 250*C for up to 5 minutes.

Take out of the oven and enjoy!
If you try this recipe (which you should) let me know what you think!