This classic egg stew recipe has been a favourite in my home since I was a child. As simple as this recipe may sound, it is absolutely delicious and is perfect served with some boiled yam and plantain after a long day. The stew is completely vegetarian yet high in protein and provides a tasty break from a meat-filled day, thus perfect for meat-free Mondays perhaps?! Nothing beats this warm, comforting cooked meal especially on a cold winter's day. So without further ado, here's the recipe!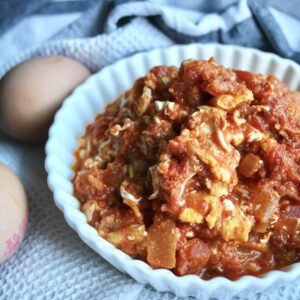 EASY, CLASSIC GHANAIAN EGG STEW
Ingredients
3

Eggs

1

Medium white onion

1

Can of chopped tomatoes

2

tbsp

Extra virgin olive oil

(For cooking)

Salt

(To taste)

All-purpose seasoning

(To taste)

1

tsp

Grated ginger

1

tsp

Crushed garlic

1

tsp

Dried thyme

3

Kpakpo shito peppers or small green chillis

(finely chopped/ground)
Instructions
Chop your onion into small pieces and fry in olive oil until translucent in a pot.

Add your tinned tomatoes, salt, all-purpose seasoning, grated ginger, crushed garlic, dried thyme and pepper and let simmer for 20 minutes until cooked. Make sure to stir occasionally.

When the stew is cooked, crack three eggs into the stew and let them sit for 1 minute.

When the eggs start to firm up, stir until completely scrambled and mixed into the stew.

Serve with either boiled yam and plantain or rice. Enjoy!x
---
Do you like egg stew? Leave a comment below if you do!