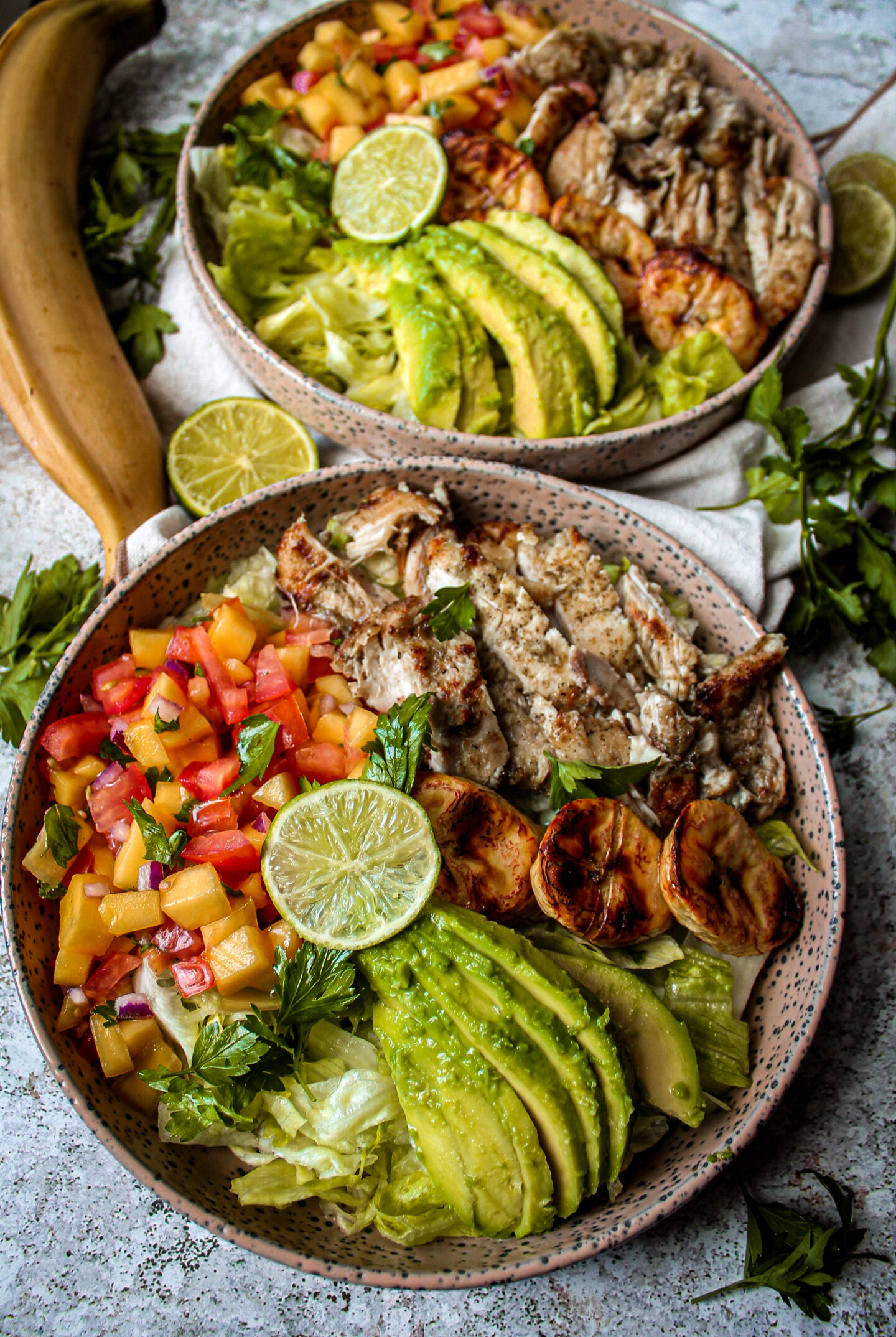 No boring salads here! This tasty, quick and easy refreshing salad combines delicious flavours from West Africa. Using our popular Ghana Grilled Chicken recipe as the protein base, you're in for a spicy, flavour-packed meal that will leave you never wanting to eat another type of salad again!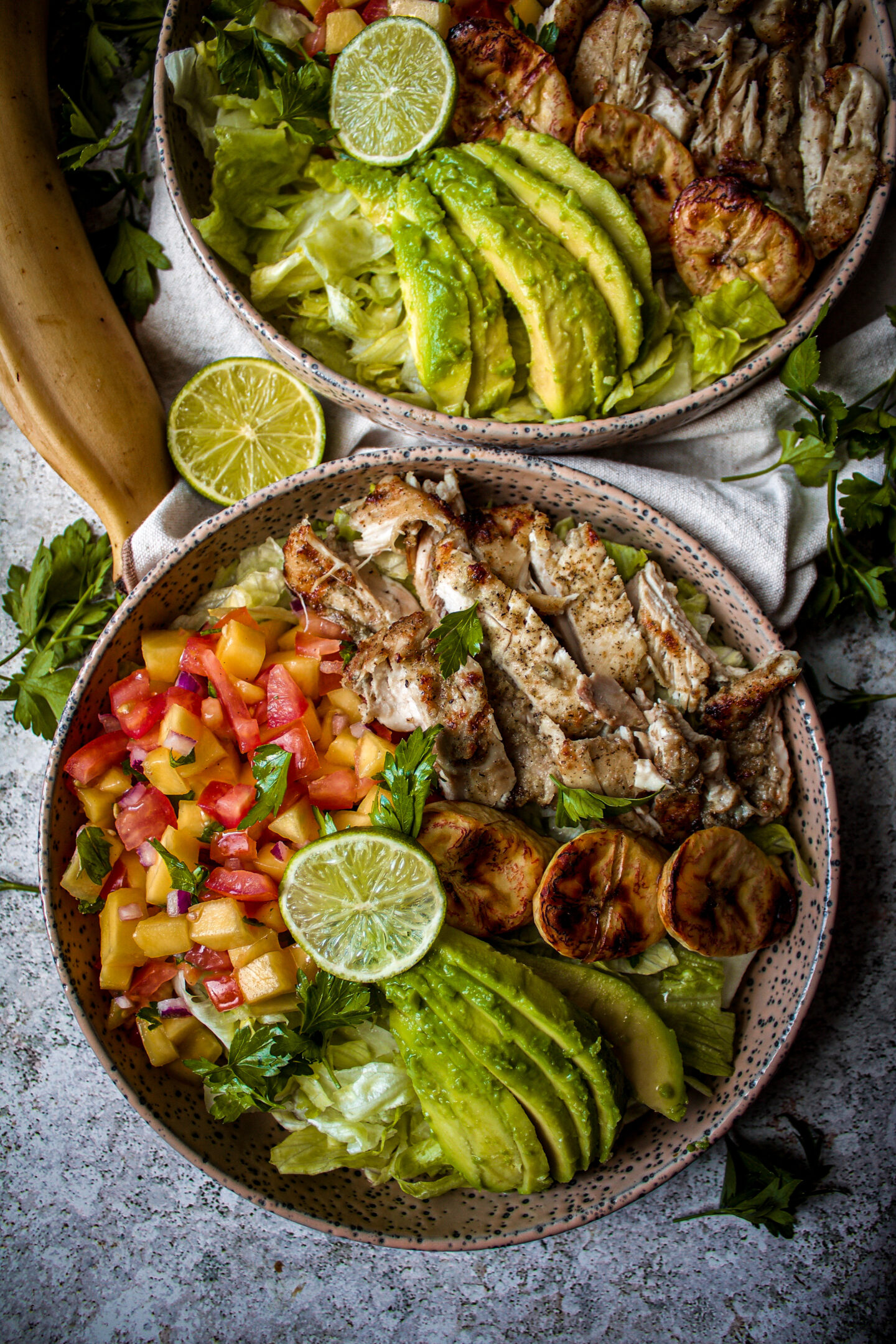 Ghana Grilled Chicken
Our Ghana Grilled Chicken recipe uses ingredients commonly used as a base meat marinade in Ghana- onion, chillis, ginger, garlic, salt and herbs! It's rare to find a Ghanaian meat dish that doesn't use this marinade as a base. This is why Ghanaian foods are some of the most delicious foods in the world! Using this marinade for chicken in this recipe will help to get in your protein intake in a flavour-rich way!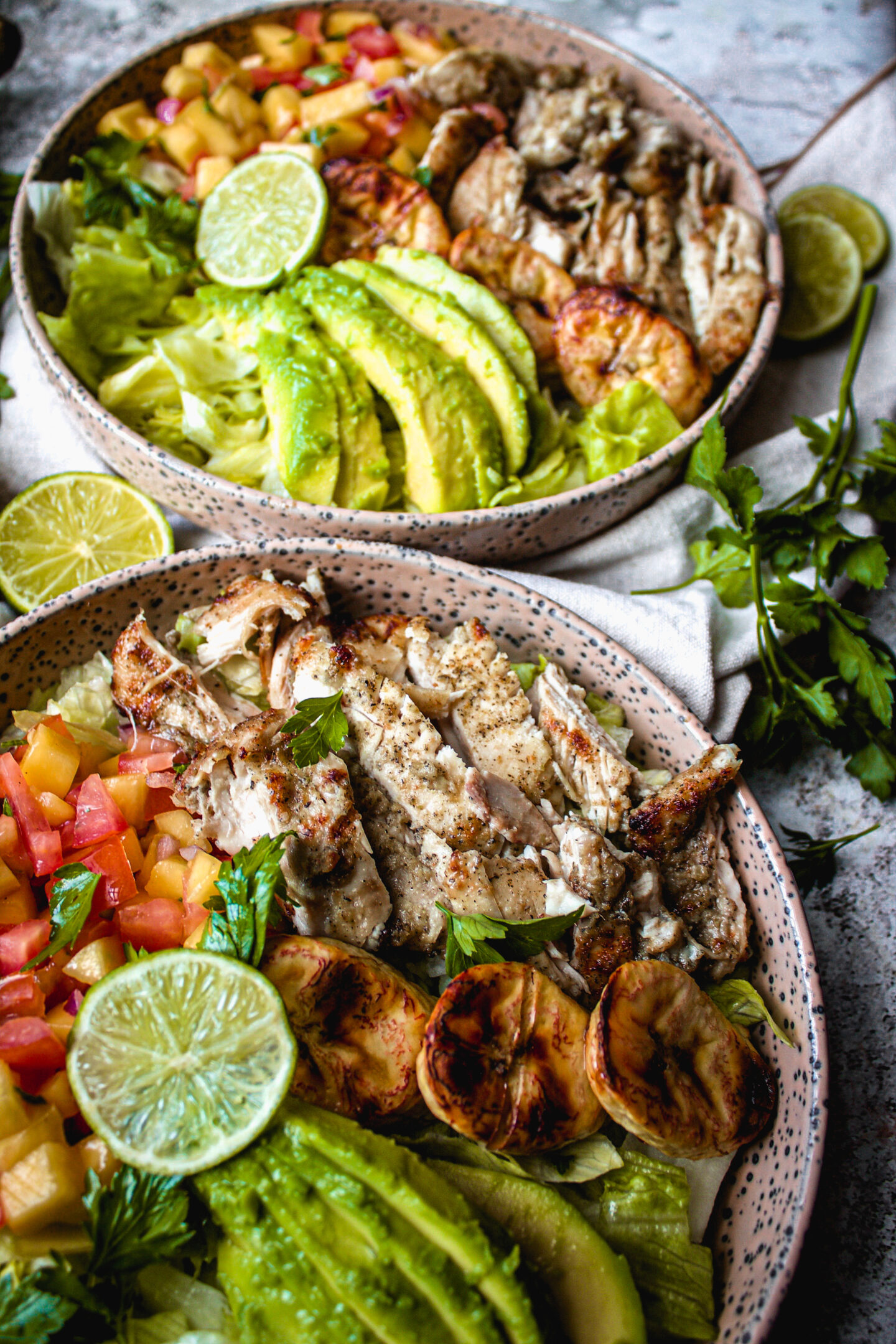 Health Benefits of Plantain
We added baked plantain to the recipe to increase the carbohydrate intake to ensure you get some added energy! Plantains are rich in fibre, antioxidants to fight against disease, Vitamin C to support immune function, Vitamin B6 to improve cardiovascular health and moods which makes sense because plantain can boost anyone's mood! Plantain is absolutely delicious and a long-standing favourite at Best Body Africa! 
Combined with a refreshing, tropical salad, this meal altogether is macro-balanced and packed with micronutrients for optimum health! Scroll down to the end of the recipe to check out the nutrition stats. 
How to Peel & Slice Plantains
Cut off the ends (tips).
Slice vertically from one end of the skin to the other without cutting into the plantain inside.
Peel the skin off from the slit opening.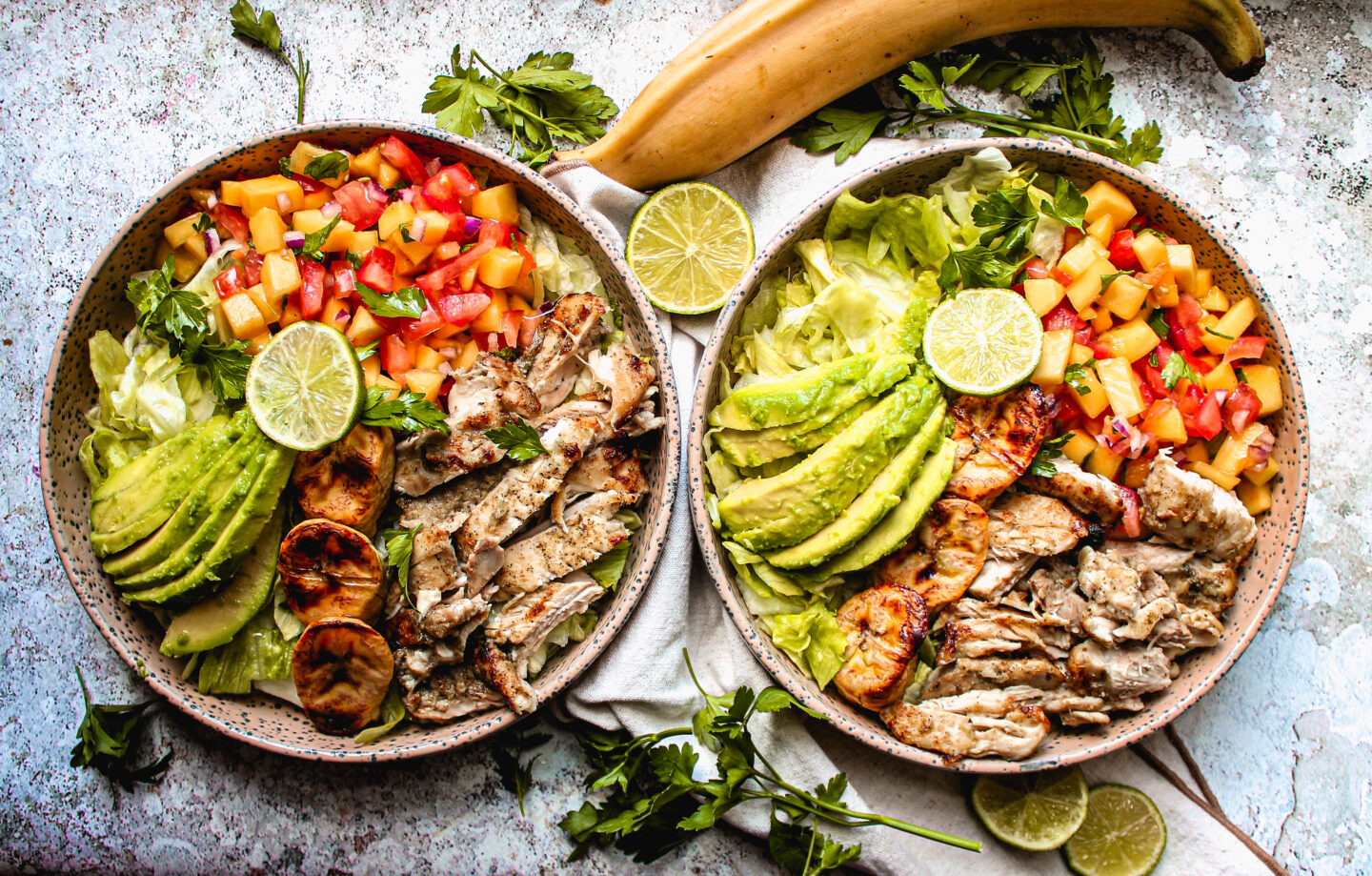 Meal Prep Hacks
Make the grilled chicken ahead of time and store in the fridge

The tropical mango salsa (tomato, mango, red onion) used in the salad is best eaten within 2-3 days. Store in an airtight container for extra freshness during your busy week!

Add your avocados on the day of eating to avoid browning!

Baked plantain is also best eaten on the day of cooking

Simply chop your salad ingredients and cook your baked plantain on the day of eating. This shouldn't take more than 30 minutes. Then, add your Ghana Grilled Chicken. 

The chicken can be eaten either hot or cold.

You can also grill your chicken and plantain on the same tray to make washing up easier!
Substitutions
Chicken- we used chicken thighs but you can use breast, leg, wing or any other part

Other protein sources- you don't have to use chicken. You can use any other animal protein or even plant-based sources such as black-eyed peas and chickpeas! (p.s. Check out our plant-based recipe here)

Lettuce- we used iceberg because it is refreshing but for added vitamins and minerals such as iron, you can use darker, leafy vegetables.
Ghana Grilled Chicken + Baked Plantain Topical Salad
Using our popular Ghana Grilled Chicken recipe as the protein base, you're in for a spicy, flavour-packed meal that will leave you never wanting to eat another type of salad again!
Ingredients
1

mango

large

1

avocado

medium

1/2

red onion

2

tomatoes

2

tbsp

parsley leaves

4

chicken thighs

skinless

4

cups

lettuce

1

plantain

medium

1

tbsp

olive oil

Salt

to taste

Ground black pepper

to taste

1

white onion

1/2

cup

chillis

2

tbsp

ginger

1

lime

8

garlic cloves

1

chicken seasoning cube
Instructions
Remove the skin from your chicken (optional).

Blend 1 chopped white onion, garlic, ginger and chillis.

Pour over your chicken thighs and add salt, chicken seasoning cube and black pepper to taste. You can marinate for 20 minutes to overnight in the fridge.

Preheat your oven to 180*C fan.

Peel and slice your plantain.

Add your plantain and chicken to a grilling rack and bake for 30 minutes until cook, flipping halfway through.

Salsa- while cooking, chop mango, red onion and tomatoes. Add to a bowl and season with a pinch of salt, the juice of lime and 1 tbsp olive oil. Mix.

To your serving bowl, add chopped lettuce, ½ sliced avocado per portion and your salsa.

When your chicken and plantains are ready, slice the chicken into strips and add along with plantain to your serving bowls.
Nutrition
Calories:
757
kcal
Carbohydrates:
74
g
Protein:
52
g
Fat:
32
g
Saturated Fat:
6
g
Polyunsaturated Fat:
5
g
Monounsaturated Fat:
18
g
Trans Fat:
1
g
Cholesterol:
215
mg
Sodium:
245
mg
Potassium:
2433
mg
Fiber:
16
g
Sugar:
36
g
Vitamin A:
4230
IU
Vitamin C:
145
mg
Calcium:
143
mg
Iron:
5
mg