African meals are filled with lots of delicious flavours and seasonings that make every dish a mouthwatering feast. Today, we are taking a look at cloves!
Cloves, also referred to as whentia by the Akans of Ghana, are one of the many longstanding spices that our mothers swear by. The tingly smell and sharp, hot taste make it a great addition to any spicy recipe. They are the aromatic flower buds of the clove tree.
Used ground or whole, they add a delightful flavour to your soups, stews and sauces as well as local beverages such as Sobolo and asana. It is also one of the main ingredients in gingerbread loaves and biscuit recipes.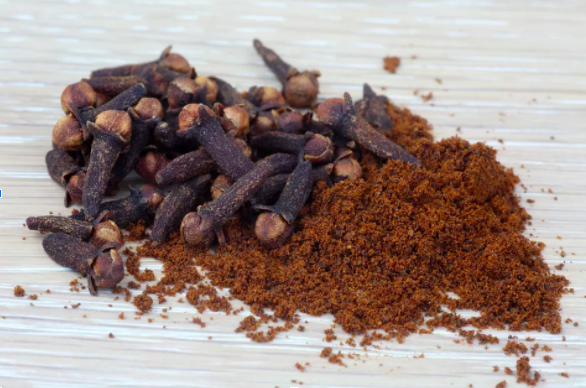 We would advise using them ground or blended with other spices as they tend to be very hard even after being cooked due to their woody texture.
Health benefits
Cloves are packed with nutrients such as vitamin K, manganese and fiber. Despite being used in very small quantities in each recipe, they act as powerful antioxidants by preventing oxidative damage caused by free radicals in the body (free radicals are the molecules produced in the body from chemical processes such as the breakdown of food). Adding cloves to your diet can help stabilise blood sugar levels and support liver function. Their antimicrobial properties not only help them to ease digestion, but also to maintain and improve oral health by killing bacteria in the mouth, helping with gingivitis, plaque and relieving toothaches.
Pairing them with other spices
Use them together with nutmeg, cayenne pepper, ginger, kani pepper or even substitute for cinnamon in various recipes. Their pungent taste and smell make cloves suitable complements to these other spices, giving you that extra warm taste as you savour each meal.
Storage
Cloves can be stored whole or ground in an airtight container in a cool, dry and dark place. Ground cloves can be kept for up to 3 months while whole cloves may stay fresh for up to one year. They can also be blended with a little water and stored in the freezer for up to a year – my mum does this all the time!
Tip: steep 1 table spoon of whole cloves in a cup of hot water and enjoy an occasional refreshing herbal tea.
RECIPE: APARANSA
Aparansa is a traditional Ghanaian dish that does well with just the right ingredients, including cloves!
Ingredients:
Minced cloves
Palm nut extract
Dried fish
Crabs
Roasted cornmeal
Prekese
Onions
Pepper
Ginger
Garlic
Fresh tomatoes
Boiled beans
Salt
How to:
Prep the dry fish and crabs, and steam with the blended onions, minced garlic, pepper, ginger and salt.
After letting it steam for 2 minutes, add in the minced cloves.
After 5 minutes add the blended fresh tomatoes and bring to a boil for 10 minutes.
Add the palm nut extract and stir thoroughly.
Add the prekese, then leave to boil once more for a further 25 minutes after which you add the boiled beans.
In a separate saucepan, add ¾ of the palm soup and gently stir in the cornmeal and let it steam for 3 minutes.
Dish into a bowl and serve garnished with the crabs on top.
Disclaimer: My writing does not constitute nutritional or dietary advice. Kindly see your health professional for such needs, I'm just a foodie running a restaurant!