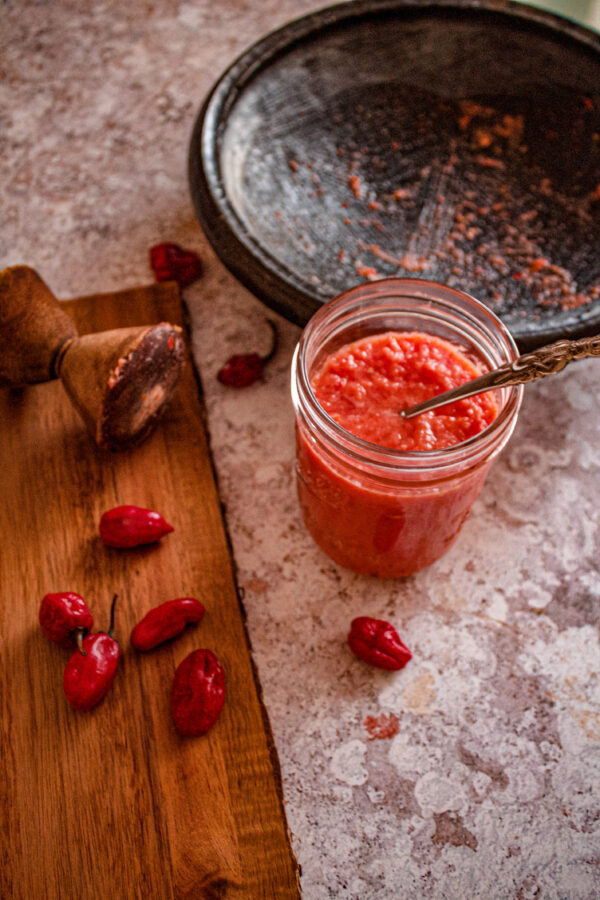 A spicy, raw pepper sauce made with just a few ingredients! 
Btw, in Ghana, when we say "pepper" we don't mean bell peppers but are rather referring to  "chillis".
Red chillis have many health benefits including the ability to reduce inflammation, clear congestion and boost immunity.
This is the perfect spicy dip for your baked yam fries, baked cassava fries or as an accompanying sauce to a main dish! You definitely have to give this one a try!
If you don't have an asanka (grinding bowl) and pestle, you can always just throw all the ingredients into a blender and blend away! But if you prefer an asanka then get your biceps ready for grinding!
Ghanaian Raw Red Pepper Sauce
Ingredients
5

red chillis (quantity to taste)

4

small tomatoes or 2 medium

1/2

red onion

Salt to taste
Instructions
Asanka Recipe
Add your chopped onions and chillis to your asanka and grind until smooth with your pestle.

Add your tomatoes and salt and grind until smooth.
Blender Recipe
Throw all your ingredients into a blender and blend with a splash of water!
I hope you enjoy this recipe and definitely give it a try! Let me know what you think in the comments section below.