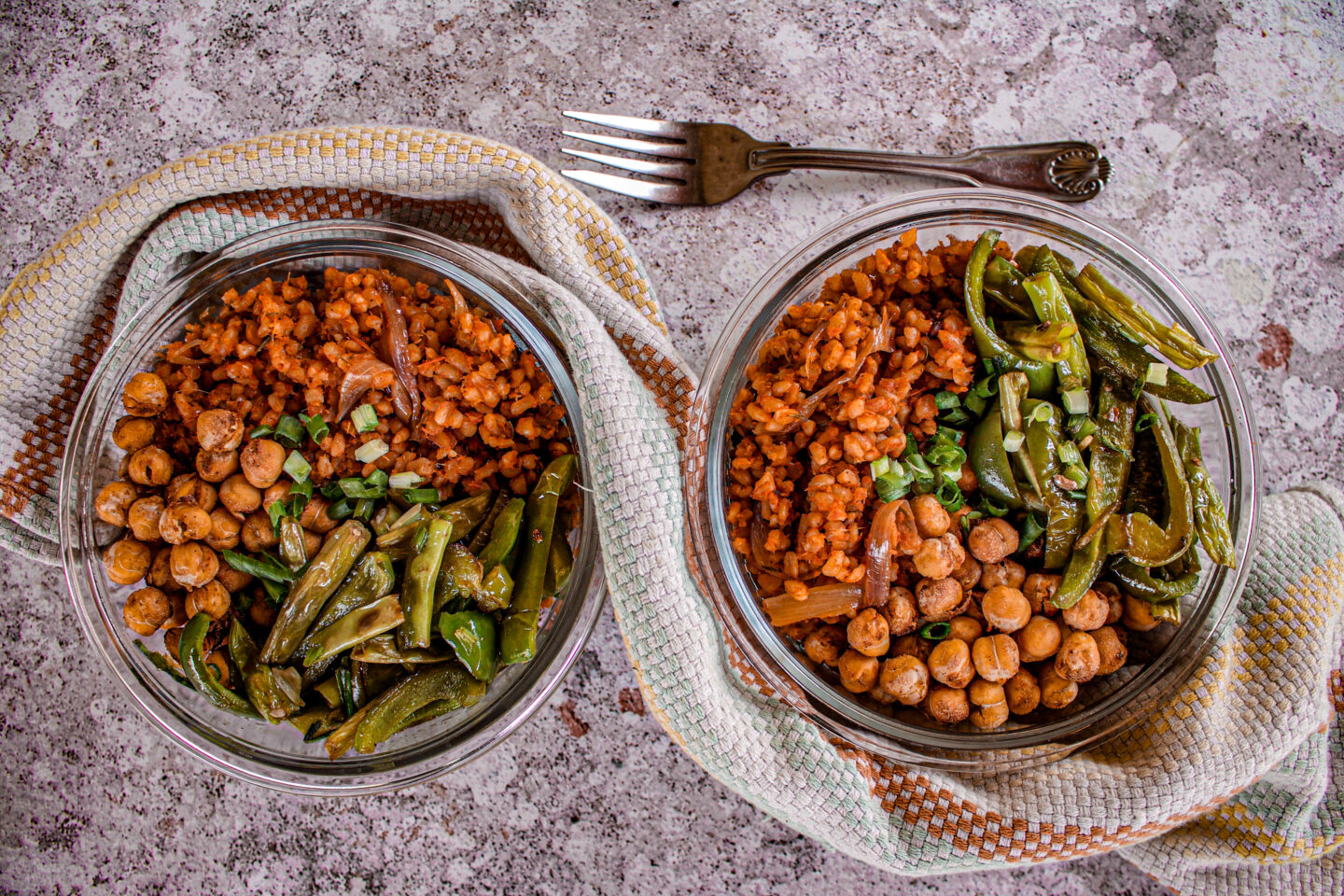 A delicious recipe you wouldn't even realise is vegan! This dish is packed with flavour and leaves you feeling full without the sluggishness that comes after your typical main meal.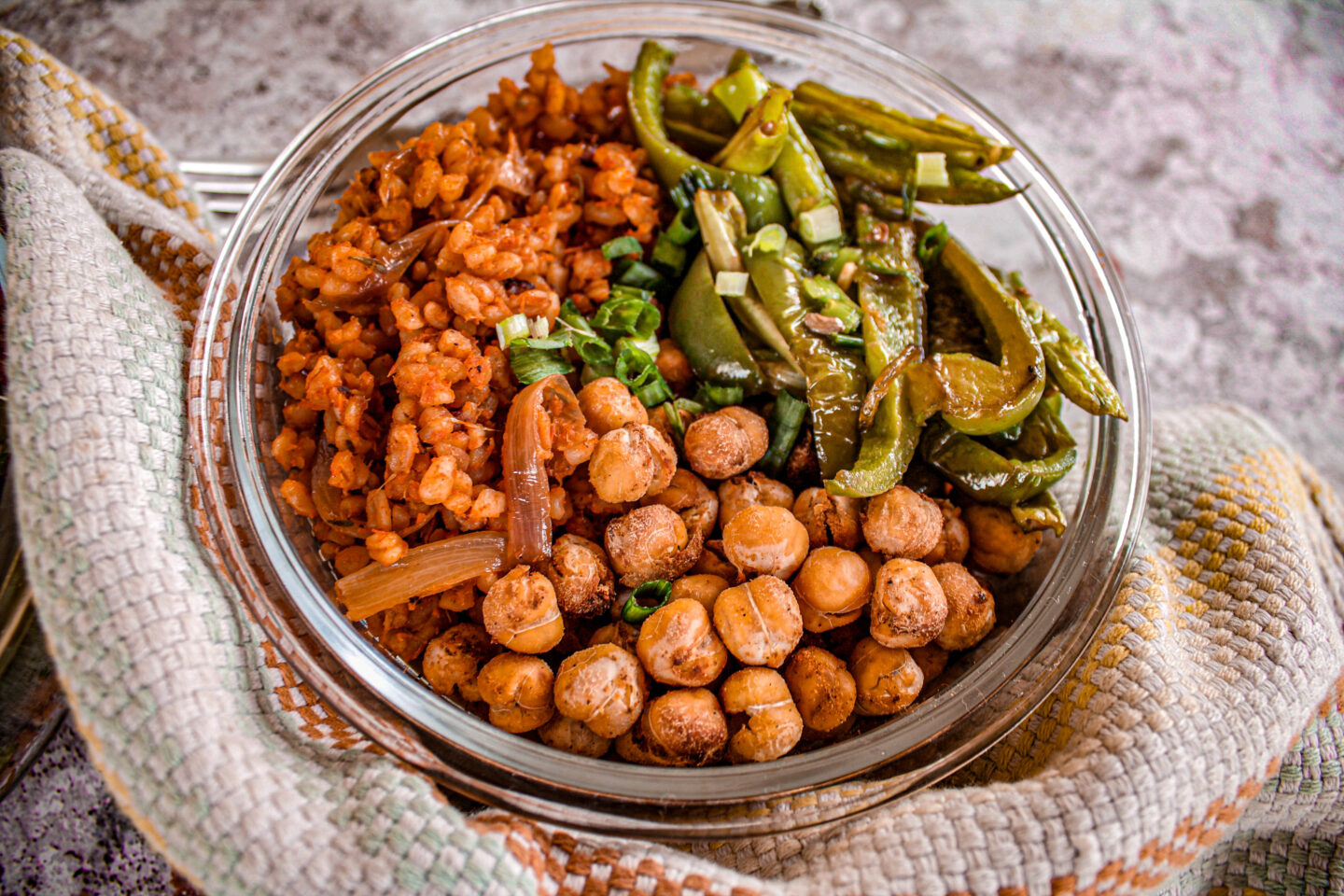 Jollof is a common West African dish that comprises of rice cooked in a rich and spicy tomato sauce. You will find different variations of this common dish in different West African countries and in different homes. For example, in Nigeria, long grain parboiled rice is used in cooking whereas Ghanaians typically cook this party food using basmati or jasmine rice. Regardless of the version cooked, overall this dish is delicious!
To "healthify" jollof a bit, we used bulgar wheat, a cereal made with dried, cracked wheat which is harvested in many African countries. Bulgar wheat is packed with vitamins and minerals such as Iron, vitamin B6 and Folate. It's also known to improve digestion, support healthy blood sugar and contribute towards weight loss when eaten in a regulated quantity due to its filling, high-fibre nature.
Suya is a West African spice made from ground peanuts, chillis and other ingredients, such as ginger. It definitely comes with a punch and is typically sprinkled onto grilled meats such as chicken or beef. In this recipe, we sprinkled suya onto roasted chickpeas just to give the widely eaten legume an added West African dish.
We served the jollof and roasted chickpeas with sautéed veggies just for some extra flavour and texture. Overall, this nutrient and fibre-packed dish made for the perfect nutritious lunch on a busy weekday! Without further ado, here's the recipe:
Bulgar Wheat Jollof + Roasted Suya Chickpeas
Ingredients
Bulgar Wheat Jollof
1.5

cups

raw bulgarium wheat

4

large tomatoes

1 and a half

onions

3

small chillis

Thumb sized piece of ginger

3

garlic cloves

Salt to taste

1

tsp

dried thyme

2

cups

water

3

tbsp

olive oil
Roasted Suya Chickpeas
2

cans

chickpeas

2

tbsp

suya powder

Salt to taste

1

tbsp

olive oil
Sautéed Veggies
2

green bell peppers

3 large handfuls sugar snap peas

1

tsp

olive oil

Salt to taste

1

garlic clove
Instructions
Bulgar Jollof
Blend your tomatoes, chillis, ginger, garlic and 1 chopped onion until smooth.

Add your oil to a medium/large-sized pot and add half a sliced onion. Cook until soft.

Add your blended mixture. Add your thyme and salt and cook for about 20 minutes, stirring occasionally.

Wash your bulgarum wheat and add to the tomato mixture with water. Cover and cook until bulgarium wheat is soft. (Roughly 20 minutes).
Roasted Suya Chickpeas
Drain and dry your chickpeas and lay them on a baking tray.

Add your oil, suya powder and salt to taste and mix until all chickpeas are coated evenly.

Place in the oven to cook for about 15 minutes.
Sautéed Veggies
Slice your veggies and crush/chop your garlic into small pieces.

In a pan, add your oil and sauté your veggies in the garlic until softened. Serve with your jollof and chickpeas. Enjoy!
Nutrition
Calories:
418
kcal
Carbohydrates:
57
g
Protein:
13
g
Fat:
19
g
Saturated Fat:
3
g
Polyunsaturated Fat:
2
g
Monounsaturated Fat:
12
g
Sodium:
37
mg
Potassium:
745
mg
Fiber:
10
g
Sugar:
6
g
Vitamin A:
1255
IU
Vitamin C:
68
mg
Calcium:
50
mg
Iron:
2
mg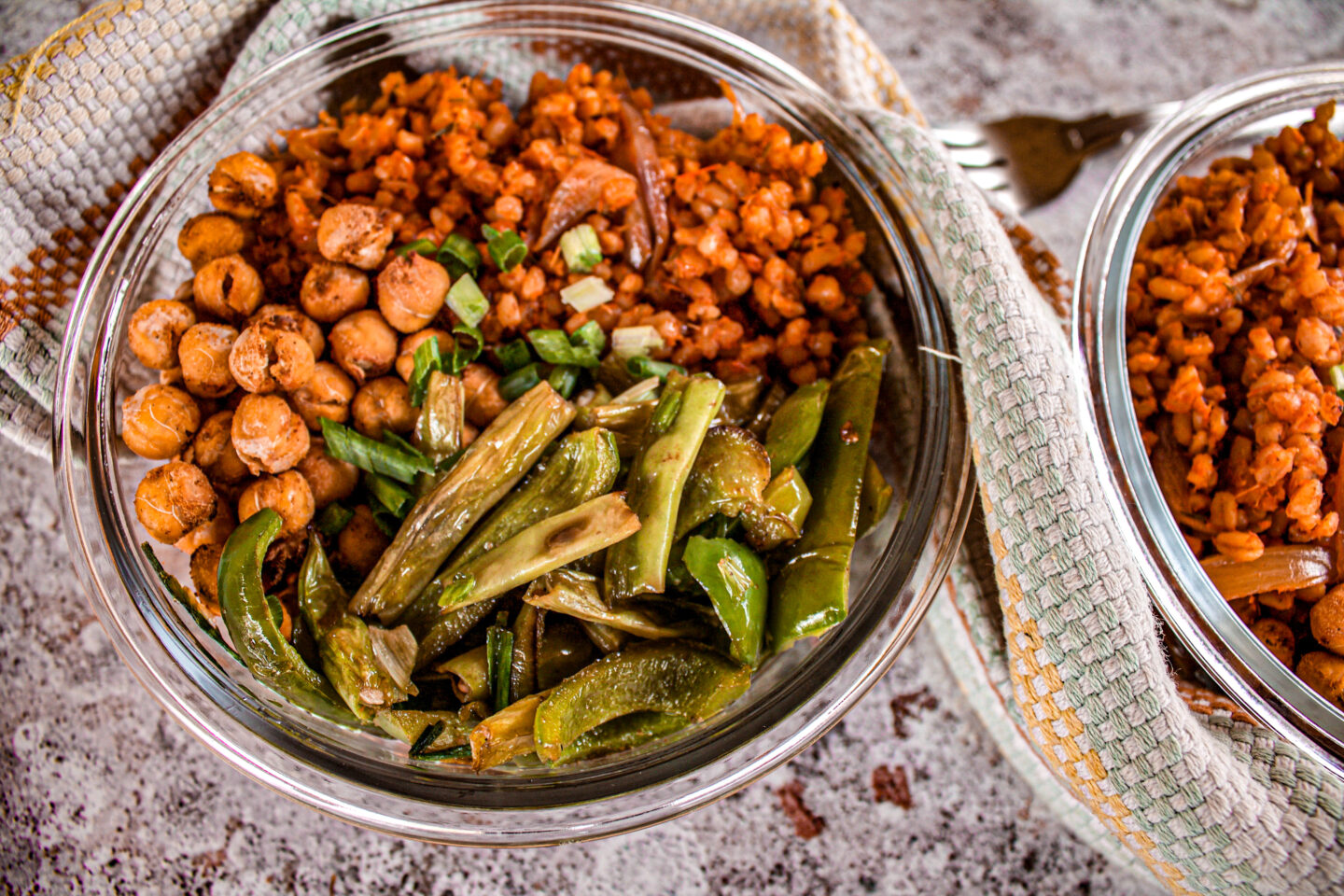 I hope you liked this recipe! Don't forget to subscribe to be notified of all updates!
Bry xo