Abom is a traditional Ghanaian dish made of fresh, local, natural Ghanaian ingredients. The base of the dish is fresh cocoyam leaves- a vitamin-rich, immune-boosting leafy green.
The dish is traditionally accompanied by boiled cocoyam, boiled green plantain, salted tilapia (koobi), boiled eggs, spices and even avocado. The icing on the cake is the hot palm oil that is poured over the dish at the very end.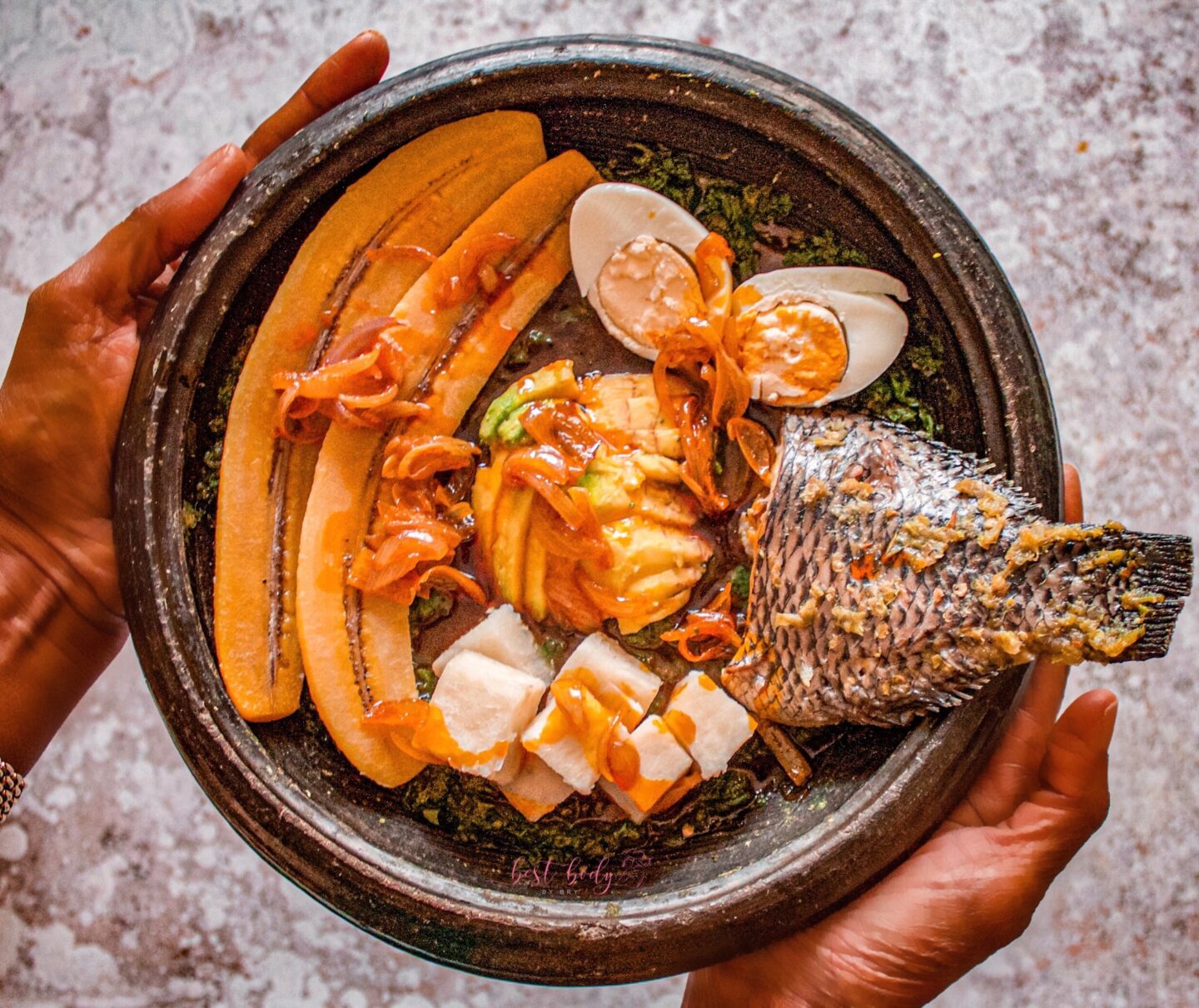 Abom is served in an asanka where the peppers, onions, tomato, boiled cocoyam leaves and momone are ground up. The boiled plantain and yam (ampesi) is then dipped, using your hands, into the nutritious, flavourful dip making a unique and tasty dining experience! Trust me, eating and making abom is an art!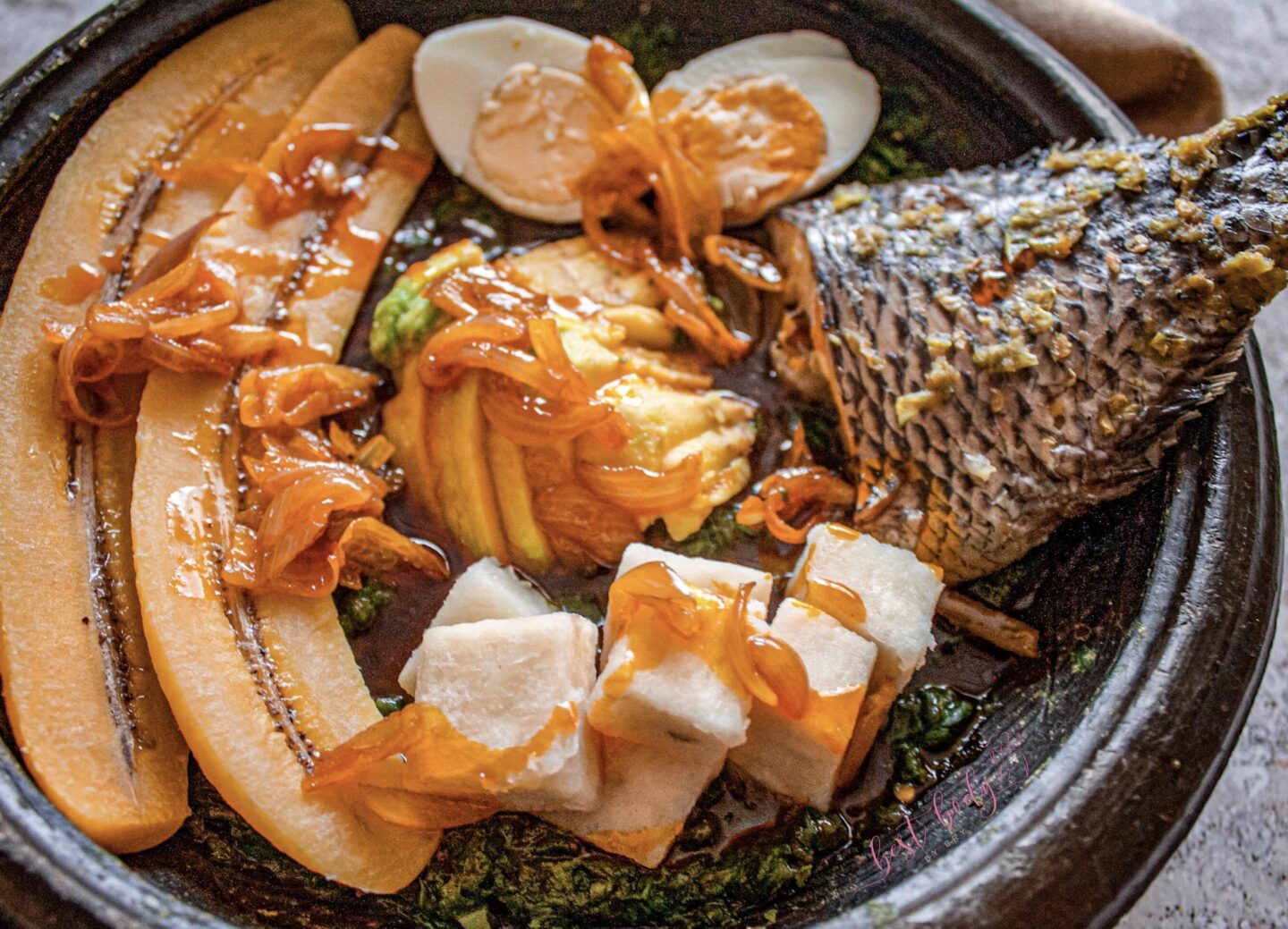 I decided to "healthify" the dish by: reducing the quantity of palm oil used and by using regular, fresh tilapia to reduce the salt and fat intake of the overall dish. I did this to highlight the nutritious, rich ingredients that make up the core of the dish.
The plating journey:
Overall, this dish was absolutely delicious and light without compromising on the traditional taste! Without further ado, here's the recipe: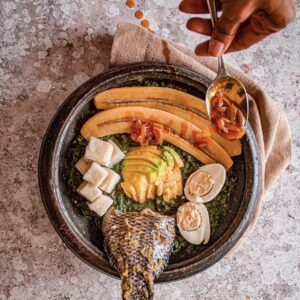 Healthier Abom (Low-oil, Low-salt)
Ingredients
400g

raw cocoyam leaves/spinach

1/2

palm-sized piece of raw momone

1

tomato

Salt

to taste

1 and a half

red onions

8

medium kpakpo shito peppers

1

small tilapia fillet

1

green plantain

2

1-inch thick slices of yam/cocoyam

1

egg

2

tbsp

palm oil

(1 tbsp per person)

1/2

large avocado
Instructions
Wash and boil your cocoyam leaves until wilted.

In your asanka, grind 1 chopped onion plus your kpakpo shito peppers.

Use 1/3 of the ground mixture to season your tilapia plus salt to taste. Optional- marinate overnight.

Steam your tilapia by placing a colander/ net steamer over a pot of boiling water. Place your fillet in the colander/steamer and cover with a lid. Steam for about 25 minutes or until fully cooked.

Roast your tomato in the oven for about 25 minutes or until charred.

Wash your momone. Poke it with a fork/skewer and place it over your stove's fire until cooked. Alternatively, grill in the oven with your tomato.

Slice your yam and plantain and boil until cooked (about 10 minutes). I cut my yam into cube shapes to make it interesting! Boil an egg as well.

In your asanka, add your drained and cooked cocoyam leaves, charred tomato and cooked momone to the ground onion and pepper. Grind until smooth and season with salt.

Over a medium heat, add 2 tbsp palm oil + 1/2 sliced onion. Heat until palm oil is scorching hot.

Serving and eating- To your cocoyam base, add your tilapia fillet, boiled plantain, boiled yam and boiled egg. Add half sliced avocado. Drizzle your palm oil and onions over the dish. Eat with your hands by dipping your yam and plantain into the green sauce along with the other accompaniments. Enjoy!
Nutrition
Calories:
671
kcal
Carbohydrates:
81
g
Protein:
33
g
Fat:
26
g
Saturated Fat:
10
g
Polyunsaturated Fat:
4
g
Monounsaturated Fat:
11
g
Trans Fat:
0.01
g
Cholesterol:
132
mg
Sodium:
261
mg
Potassium:
3161
mg
Fiber:
16
g
Sugar:
8
g
Vitamin A:
19604
IU
Vitamin C:
110
mg
Calcium:
265
mg
Iron:
8
mg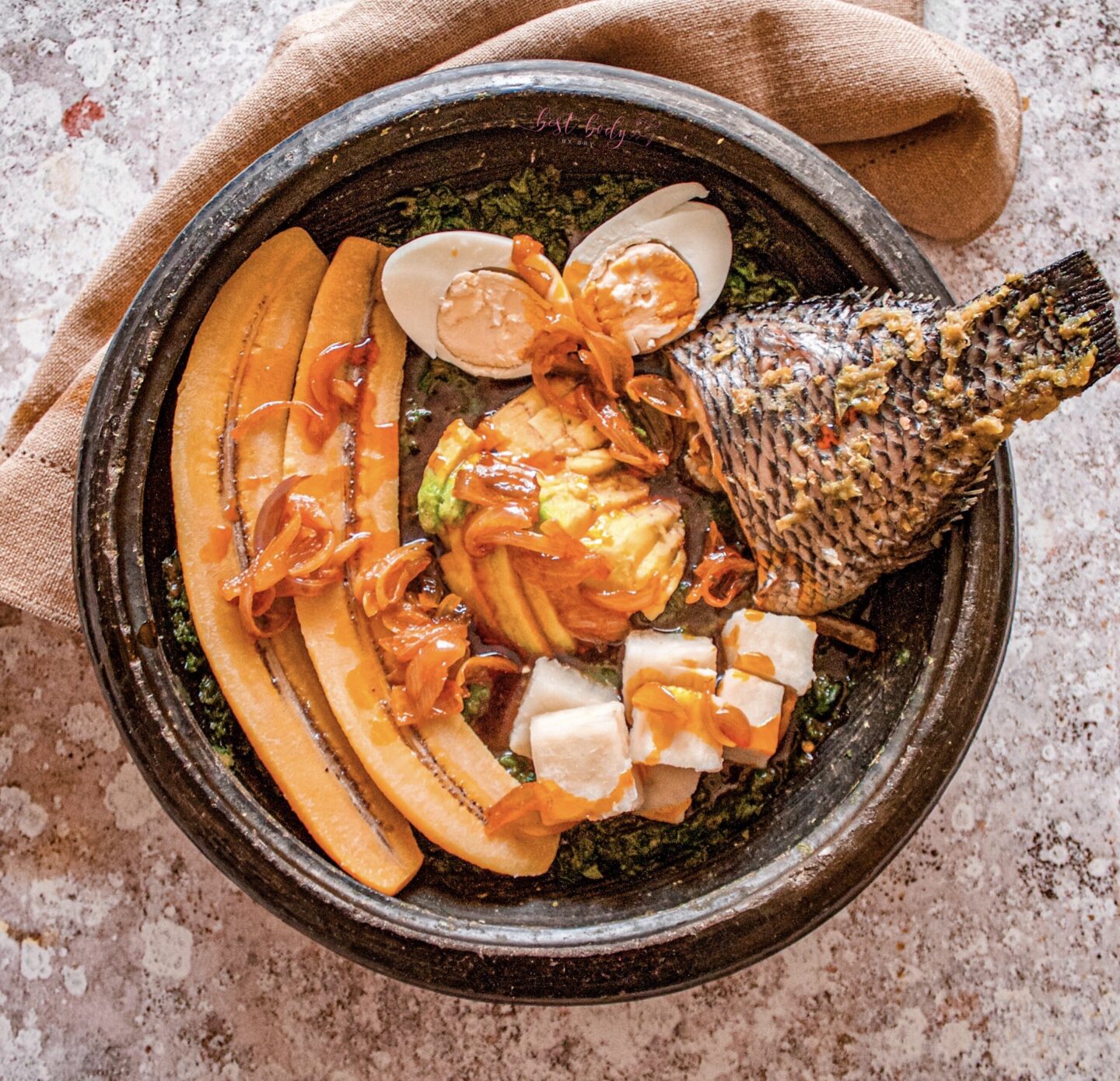 I hope you enjoyed this recipe and definitely give it a try! Subscribe to be notified of new recipes and to receive more healthy nutrition tips!
Bry xo