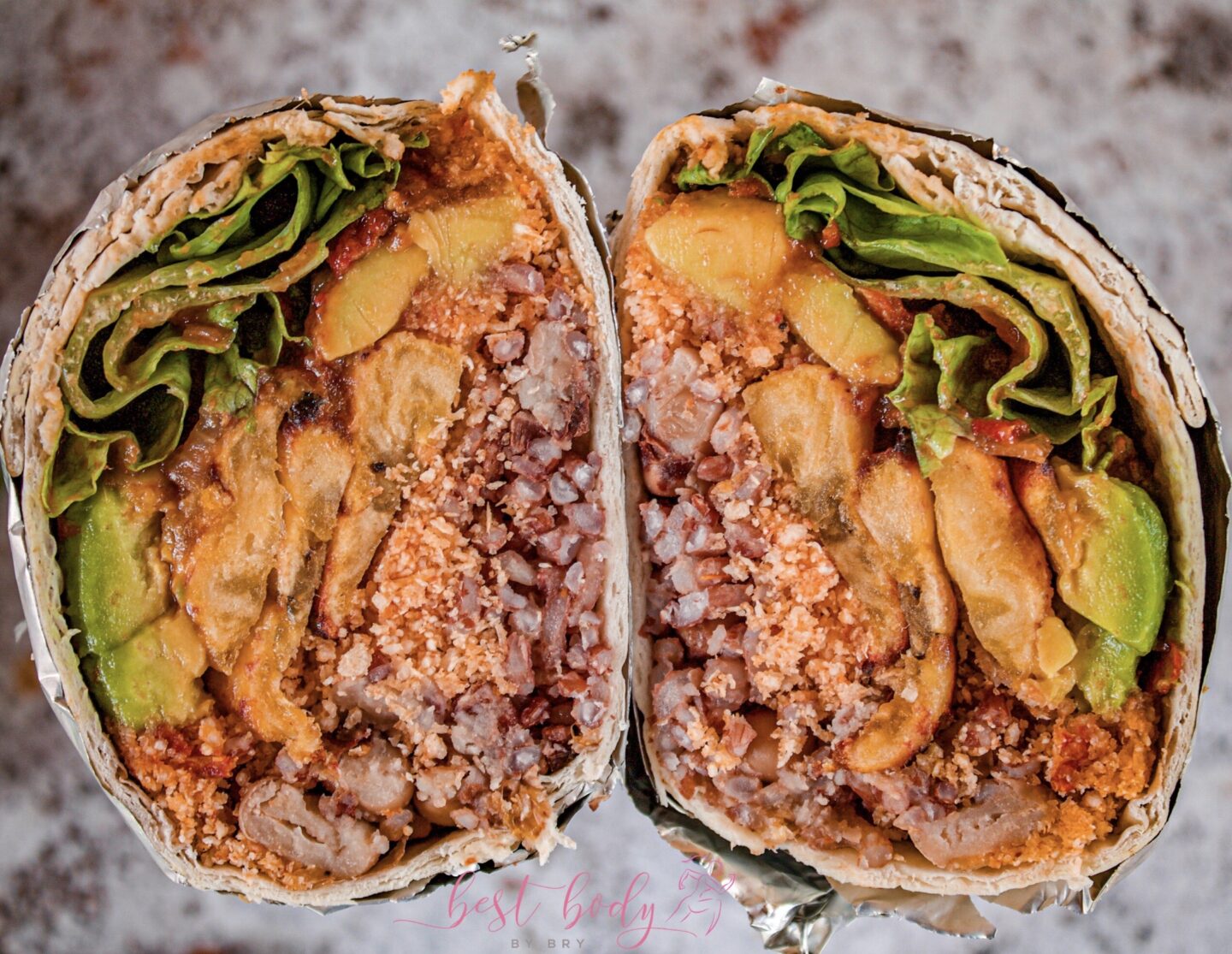 Waakye, a Ghanaian dish cooked with rice and beans, is one of the most beloved dishes that Ghanaians enjoy on a regular basis! I certainly love myself a full on waakye meal from the beans to the garri fotor to the spaghetti. Altogether, this traditional recipe makes for a delicious and super filling meal.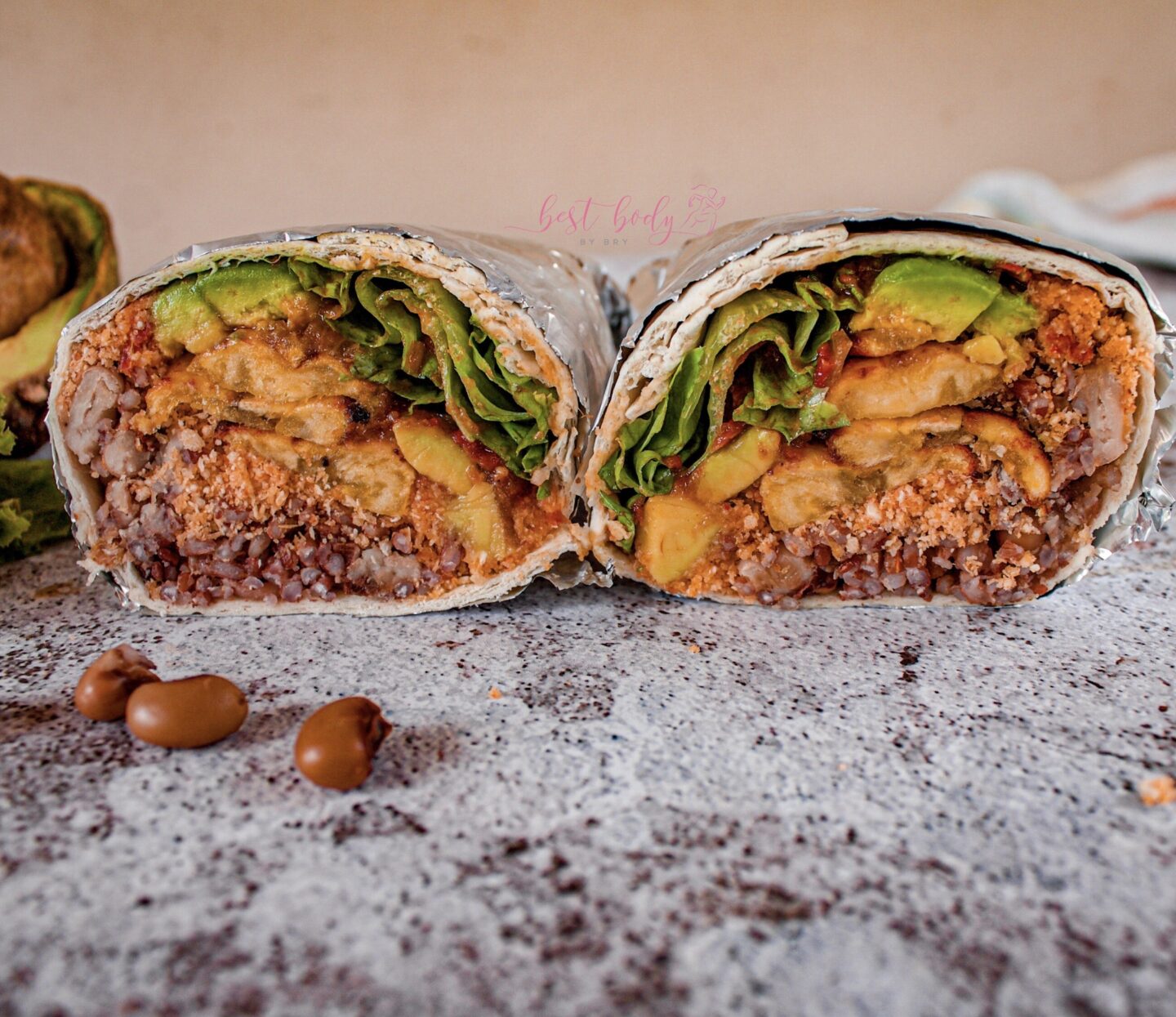 A typical waakye meal contains:
Rice and beans infused with sorghum leaves
Garri fotor (dried cassava with tomato stew)
Spaghetti
Shito (hot black pepper sauce)
Boiled eggs
Fried plantains (sometimes)
Meat stew or stewed fish/fried fish
Stewed wele (cowhide)
Vegetable salad
Yes, all of these on one plate! As filling and yummy as this is, one plate of waakye with the works easily comes up to over 1000 calories and you know us Ghanaians are not shy with portions!
I've already created a lighter version of waakye in my Brown Rice Waakye Buddha Bowl recipe but in this recipe, I decided to turn the meal into a portable burrito. I also decided to make it vegan because most of the ingredients in tradition waakye are vegan anyway! I hope you like my twist and I hope you try this recipe!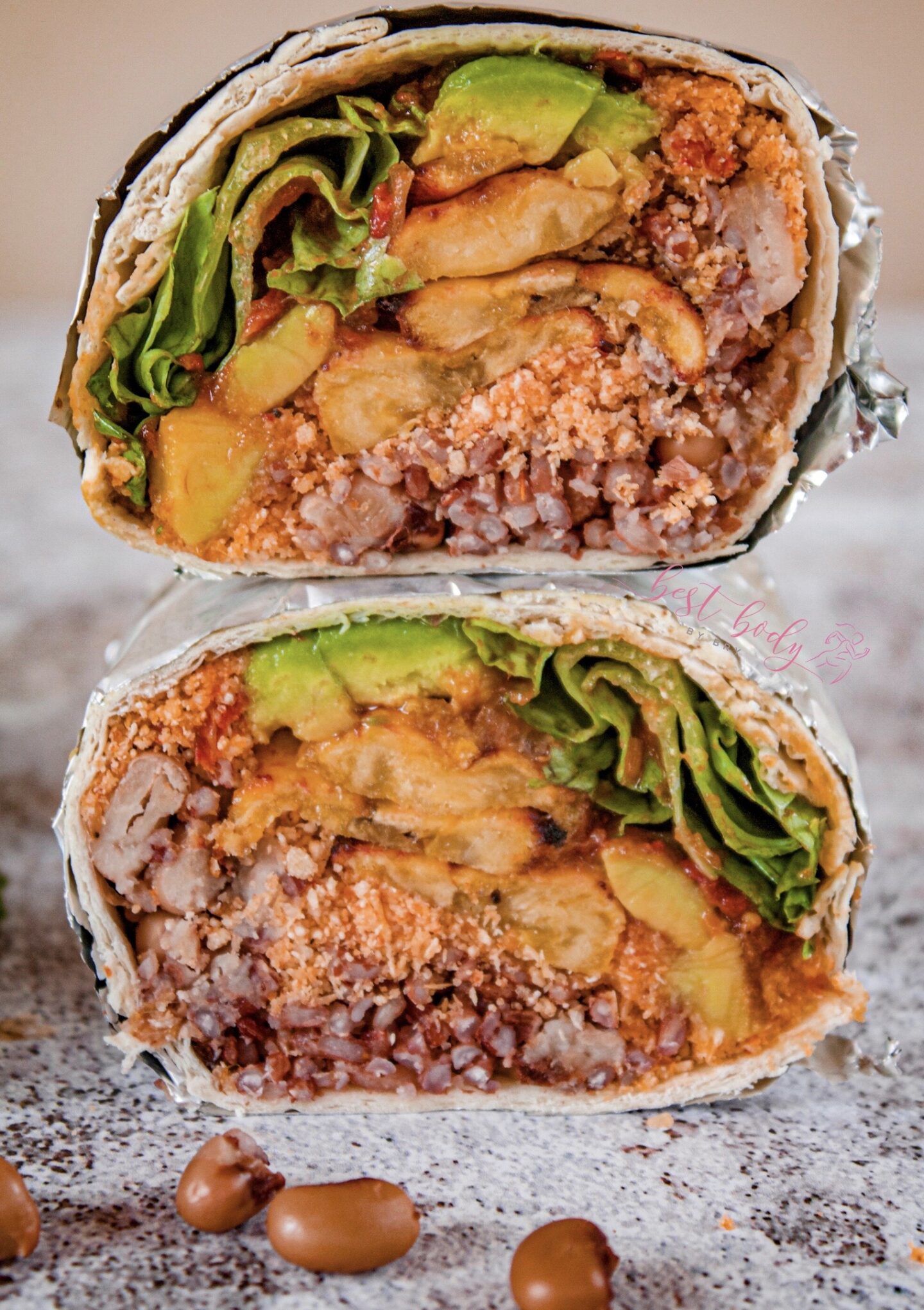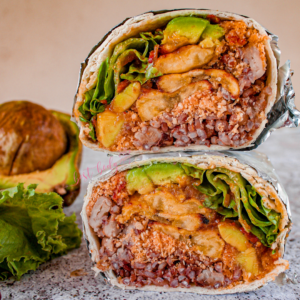 VEGAN WAAKYE BURRITO
Ingredients
Rice and beans (1 serving)
1/2

cup

brown rice

1/2

cup

canned black-eyed peas

1 handful of sorghum leaves

1

cup

water

A pinch of salt
Waakye Stew (6-8 servings)
1

white onion

1

tsp

crushed garlic

1

tbsp

crushed ginger

2

tbsp

tomato puree

1

tbsp

crushed kpakposhito/green chilli

1/2

tsp

salt

1

tsp

all-purpose seasoning

1/2

tsp

ground black pepper

1

tsp

thyme

400g

can of chopped tomatoes

1

tbsp

coconut oil
Garri Fotor (1 serving)
3

tbsp

raw garri

1-2

tbsp

water

3

tbsp

waakye stew
Plantain slices
1/2

ripe plantain

A pinch of salt

1

tsp

coconut oil
Instructions
Waakye rice
Wash your waakye leaves thoroughly and add them to a pot of boiling water. Cook for 5-10 minutes until the water turns red. (You can either remove the leaves now or keep them in the pot. I removed them).

Add your rice to the pot, salt and more water if necessary. Add beans. Put a lid on the pot and let cook for 30 minutes on a medium heat or until the rice is cooked. Check on the mixture occasionally. You can add more water during cooking if necessary. 
Waakye stew
Blend your onion, ginger, garlic and green pepper with a splash of water.

Add your oil to a pot on a medium heat and pour in the blended mixture, stirring occasionally for 5 minutes.

Add your tomato puree and stir for 1 minute.

Add your chopped tomatoes along with the spices, stir and leave to cook, stirring occasionally for 15 minutes.
Garri Fotor
Add your garri to a bowl with water. Crumble in your fingers until the mixture is a crumbly texture.

Add your stew and stir until all the garri is coated.
Kelewele slice(s)
Preheat your oven to 180*C.

Slice your plantain in half. Coat in salt and coconut oil. 

Place slice(s) on grill tray and cook for 10-15 minutes on each side until brown.
Assembling!
Layer your ingredients in this order- rice, garri fotor, plantain, sliced avocado, 2 tbsp waakye stew, lettuce

Wrap up like a burrito, cut in half and enjoy!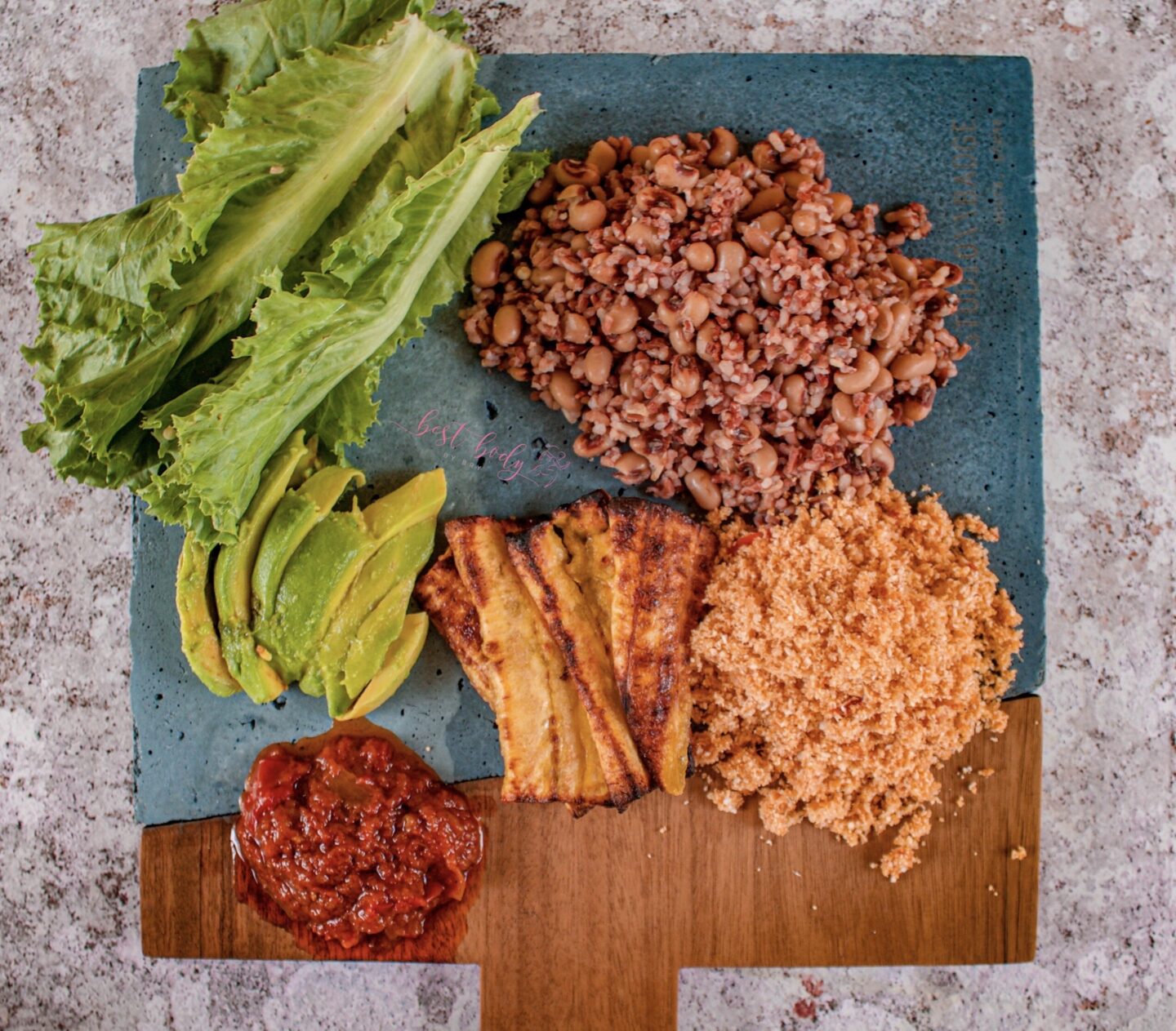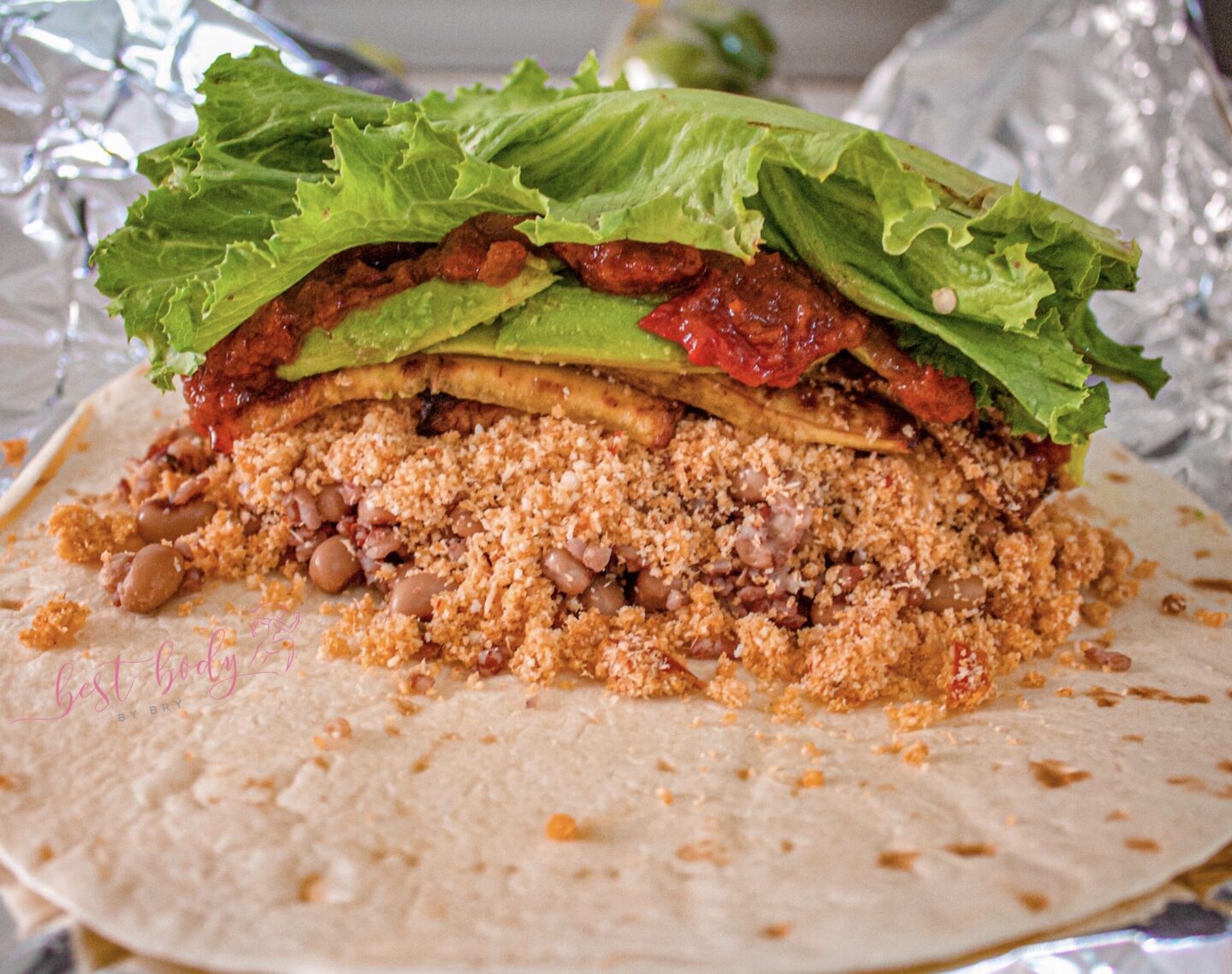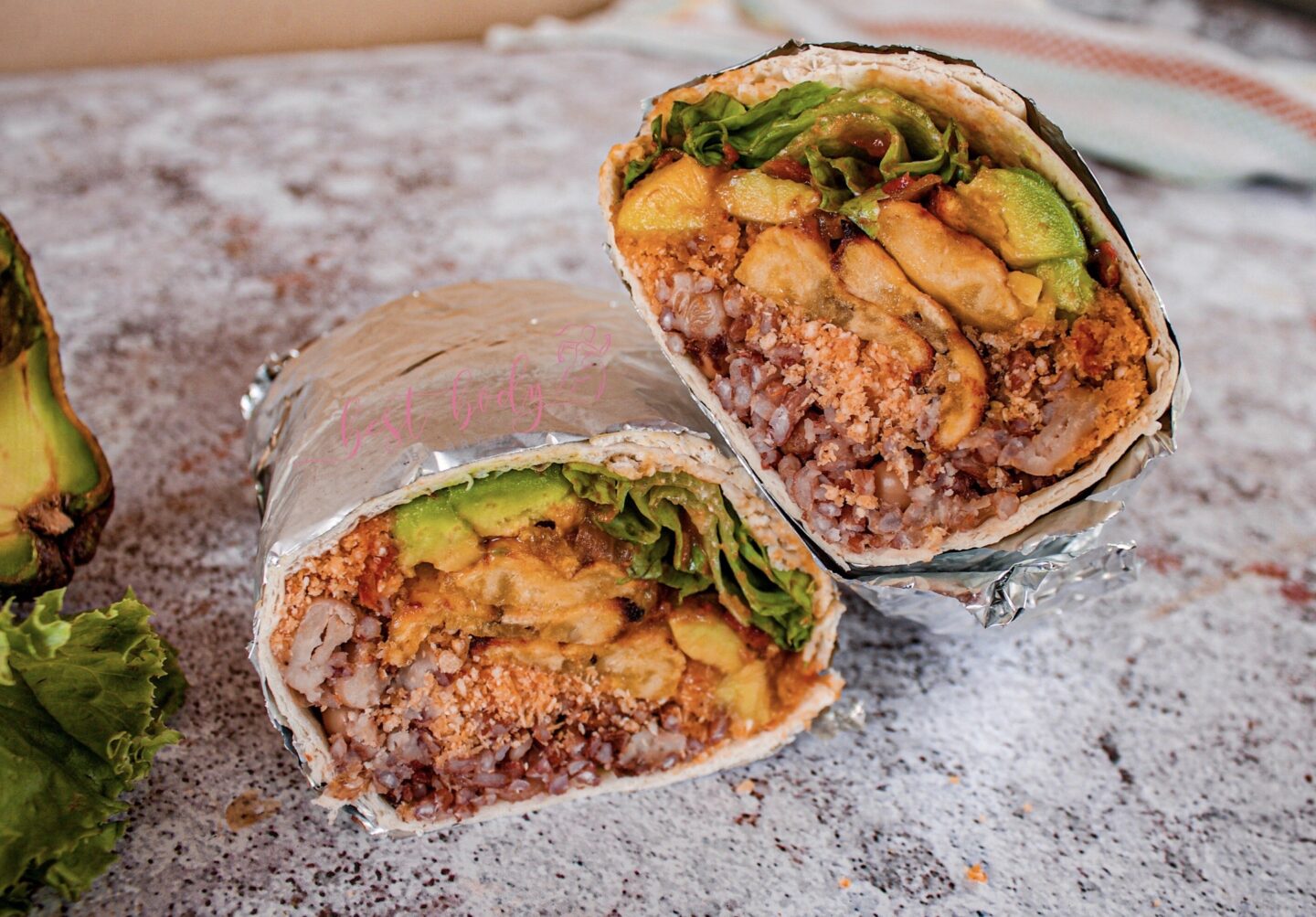 I hope you enjoy this recipe and definitely give it a try! It is absolutely delicious and packed with flavour! Explore more recipes here and subscribe for exclusive content on how to lead a healthy lifestyle on a Ghanaian diet!
Bry xo